Tandoori Paneer with Bao Buns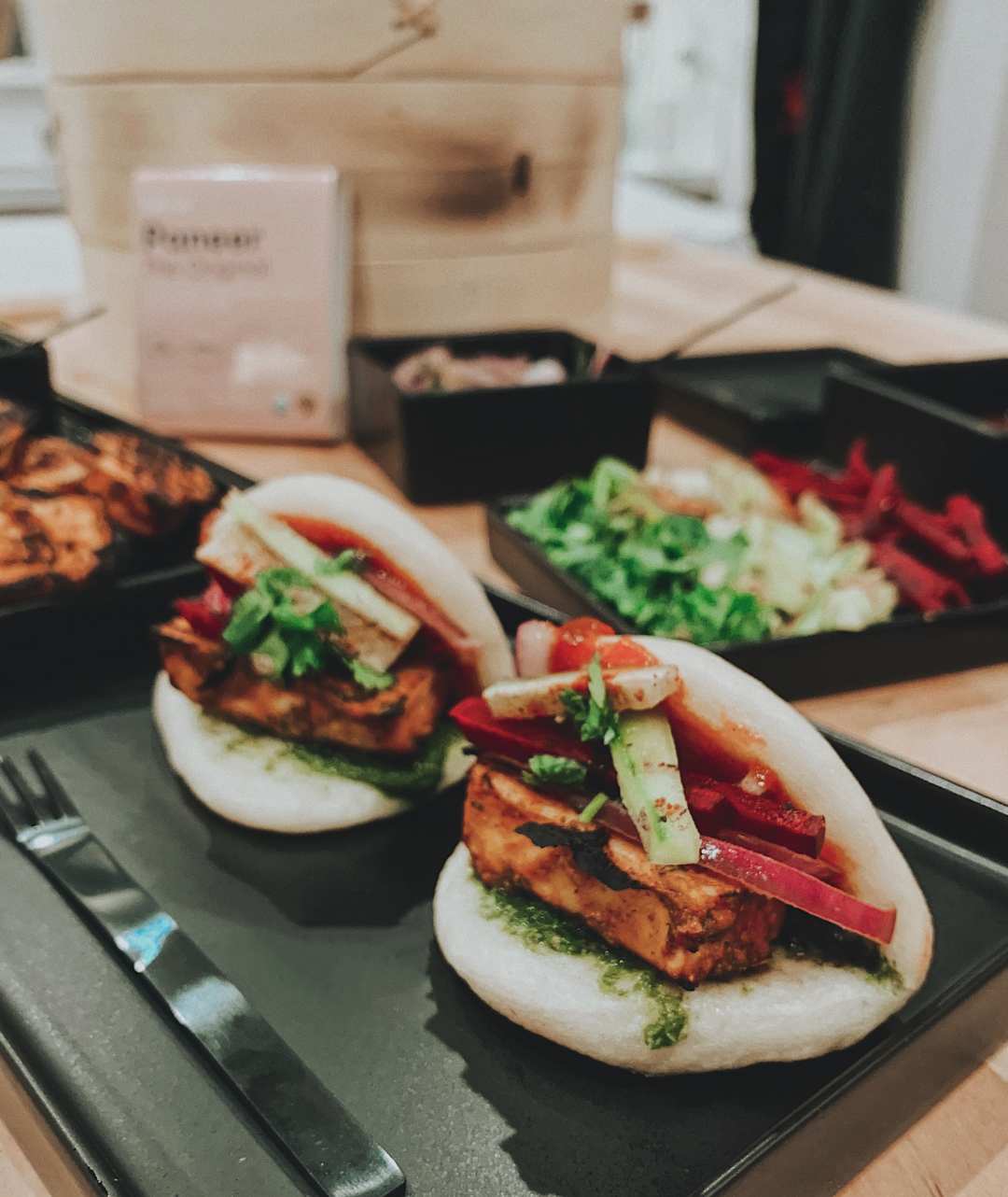 Are you prepared for the deliciousness that your taste buds are about to experience?
Spicy, tangy, flavorful soft charred tandoori Sach Paneer, loaded into fresh, fluffy homemade bao buns, topped with a crunchy salad topping, and finished with cilantro chutney, YUM. (P.S the bao buns aren't intimidating and we promise you'll want to make them homemade) This one is worth all the extra effort!
Serving Size: 6
Recipe by: Priya Trivedi 
INGREDIENTS: 
2 packages of SACH Organic Paneer
 Homemade Bao Buns
360g

 

approx. 2 ½ cups + 1 tbsp

 all-purpose plain flour - ( plus extra for dusting the dough)

20g 

approx. 3 tbsp

skim-milk powder

4g 

approx. 1 tsp

baking powder

5g 

approx. 1 ½ tsp

instant dry yeast

35g 

approx. 2 ½ tsp

white sugar

35g 

approx. 3 tbsp

vegetable oil - (plus extra for greasing the dough)

200g

warm water 

approx. 1 cup

Baking paper 

3 in circular pastry cutter
Homemade Tandoori Marinade for Paneer

1/2 cup

greek yogurt 

3

cloves garlic minced 

1 in

ginger finely grated 

2 - 3

green chili's finely chopped or to taste

2 tsp

 coriander powder

2 tsp

 cumin powder or cumin seeds 

2 tsp

 chaat masala

1 tsp

 amchur powder

 or dried mango powder

(optional)

2 tsp 

red chili powder or adjust to taste

1 tsp

 garam masala

1 tsp

 tandoori bbq masala (optional) 

2 tsp

 kasturi methi or crushed

fenugreek leaves

(optional)

1/2 tsp

 salt or to taste

1

lemon juiced 

¼ cup

chopped cilantro

¼ cup

of  chopped mint
 Toppings and Assembly 
Cilantro Chutney
Sriracha or Chili sauce of choice
Thinly sliced red onions mixed with lemon juice & chaat masala or (salt & pepper)
Thinly sliced beets topped with paprika
Thinly sliced cucumbers topped with chaat masala or (salt & pepper)
Chopped fresh cilantro & mint 
INSTRUCTIONS:
Part 1: Bao Buns 
Combine warm water, milk, active yeast, sugar and oil. Whisk to let yeast and sugar to dissolve then let it sit until years activate, about 5 to 10 minutes.
Combine flour, milk powder, baking powder, yeast, and sugar in a large bowl. In a separate bowl mix the vegetable oil and water.
Pour the wet ingredients to dry ingredients mixture. Use a stand mixer or stir with a spoon and then use your hands to knead until the dough comes together. Knead for at least 5 minutes or until smooth
Once the dough is smooth, cover and rest in a warm place for 90 minutes or until doubled in size. Once risen, transfer the dough to a work surface and dust with flour. Knead for an additional 5 to 10 minutes (this helps remove any excess air bubbles).

Place the raised dough on a working surface and split it into two pieces . Roll out the dough 1/4-inch thick.

Roll out the dough to a 1cm thick circle. Lightly brush oil over the surface of the dough. Then use a circular pastry cutter (or a cup of the same diameter) to cut out rounds.

Place on baking paper and place directly into a bamboo steamer or onto a baking tray. Cover the folded rounds and set aside to rest in a warm place for 30 minutes or until slightly puffed.

Fill a wok or pot ¾ with water and place over high heat. When the water is boiling, place the bamboo steamer over the wok (make sure that the steamer is not submerged in water and sits on top of the wok) and steam buns for 12 minutes. Then turn off the heat (don't lift the lid) and allow the buns to rest over the hot water for 5 minutes.

Buns can be made up to a day in advance and steamed to re-heat before filling with your Sach Paneer filling!  
Part 2: Homemade Tandoori Marinade for Paneer
Whisk the yogurt in a large bowl until smooth. Stir in all the dry ingredients for the marinade to the yogurt plus ginger, garlic, and chilies. Once combined, add in the juice of 1 lemon along with chopped cilantro and mint. Mix well.

Cut paneer into long thin slices

Gently stir paneer slices into the marinade, make sure the paneer is coated on all sides  - Cover and let paneer marinate for at least 30 minutes or up to 4 hours.

Bake at 450 F degrees on a greased baking tray for 10 minutes and then broil for 2 to 3 minutes until paneer pieces look a little charred. or place the marinated paneer slices on a grill until lightly charred. You want the paneer fully cooked but to stay soft on the inside and have a slightly charred exterior. (Overcooking the panner will make it dry) 
Part 3: Toppings and Assembly 
Stuff the buns with the tandoori paneer filling as soon as they come out of the steamer, as they're best when they're warm and soft.

Spread each side with the cilantro chutney and chili sauce, add panner, onions, cucumbers & beets.

Top with fresh cilantro or mint and you're ready to eat and enjoy!