Chili Paneer Sizzler with Hakka Noodles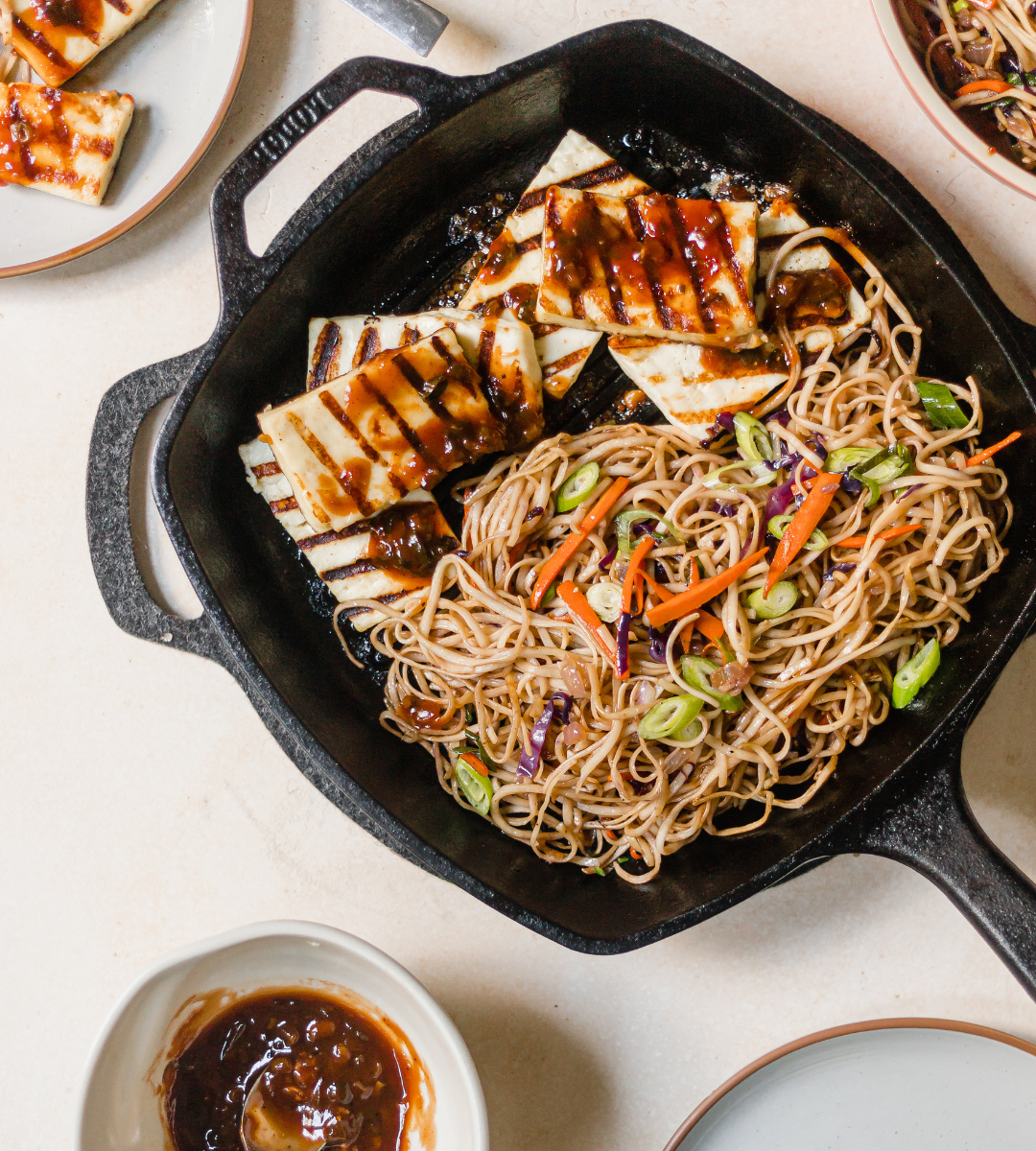 Chili paneer sizzler platters are a fun treat to make at home. We created an easy, accessible weeknight sizzler inspired by Chef Sanjyot Keer's recipe featuring pan-fried hakka noodles and grilled spicy habanero paneer topped with chili sauce. If you'd like for a less spicy version, you can use Sach Foods' original paneer and omit the sriracha.
Servings: Serves 2 as a main or 4 as an appetizer
Recipe by: Karishma Pradhan (@homecookingcollective)
INGREDIENTS: 
For the chili sauce:
1 1/2 teaspoons soy sauce

1 1/2 teaspoons unseasoned rice vinegar

1/2 teaspoon Sriracha

1 tablespoon honey or maple syrup

1 tablespoon ketchup

1 tablespoon cold water

1/4 teaspoon cornstarch

1 scallion, very finely chopped

1 small garlic clove, grated or finely minced
For the hakka noodles:
2 tablespoons neutral oil, such as canola or peanut oil, plus more if needed

1 small red onion, sliced

1 tablespoon minced or grated ginger

1 tablespoon minced or grated garlic

1 cup assorted sliced vegetables, such as cabbage, bell peppers, and carrots

6 ounces hakka noodles, lo mein egg noodles, or spaghetti 

1 tablespoon soy sauce, plus more if desired

1 tablespoon unseasoned rice vinegar, plus more if desired

1 scallion, thinly sliced on a bias

Salt and black pepper for seasoning
To finish the sizzler:
1 teaspoon neutral oil

1 Pack (6-oz) Sach Spicy Habanero Paneer

INSTRUCTIONS
:
Prepare the chili sauce
In a small, high-walled, microwave-safe bowl, whisk soy sauce, rice vinegar, Sriracha, honey, and ketchup. 
In a separate small bowl, whisk together cornstarch and cold water until fully incorporated and no lumps remain. 
Stir cornstarch slurry into the sauce bowl. Microwave for 1 1/2 minutes or until sauce begins to bubble. The high walls of the bowl ensure the mixture won't bubble over. 
Mix in scallion and garlic, then let cool slightly. 
Adjust seasonings as needed and keep warm. Chili sauce can be prepared 1 day in advance, and keeps in the fridge for up to a week. 
Make the hakka noodles:
Set a medium stock pot of water to boil. 

Heat oil at medium heat in a wok, cast iron pan, or skillet. 

Add red onion and saute, stirring occasionally until golden brown, about 3 to 4 minutes. 

Add the ginger, garlic, and saute for 30 seconds until aromatic. 

Add vegetables and saute for 3 to 4 minutes until just barely cooked through. 

When the water comes to a boil, add the noodles and cook according to package instructions. Once the noodles are cooked, drain and set aside.

Increase the heat of the pan to medium-high and add the cooked noodles, soy sauce, and vinegar.

Saute frequently, about 3-4 minutes, to allow the noodles to crisp slightly at the bottom of the pan. If there is any sticking, or the noodles appear dry, add a bit more oil. Turn the heat down if the noodles begin to burn. Season with salt and black pepper as needed.

Remove from the heat and garnish with the scallions. Set aside and keep warm. 
Finish the sizzler: 
Slice the paneer in half crosswise and again in half lengthwise to form 4 equally-sized pieces. 

Heat a medium-sized cast grill pan on medium-high heat until smoking. 

Add the oil, and swirl to coat the pan.

Using tongs, gently place the paneer in the pan. Let cook for 1 to 2 minutes on each side, until nicely charred. 

To finish the dish, turn the heat off, and immediately nestle in the hakka noodles into the pan. Pour the chili sauce, and serve right away while still hot.