Grilled Paneer Skewers with piment d'Espelette & Olive Oil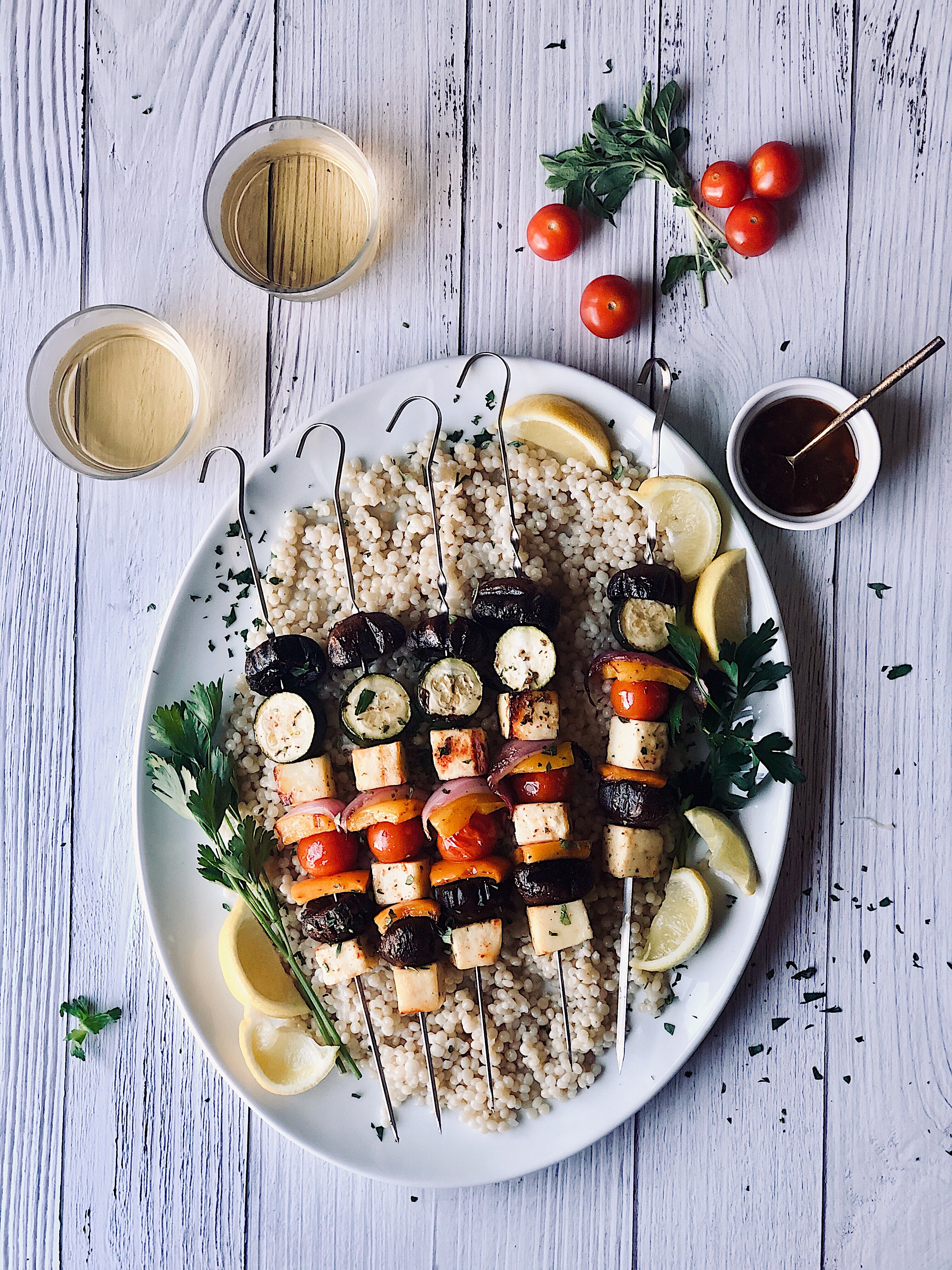 Perfect for grilling and so easy to make! 
The Paneer is marinated overnight and the veggies get brushed with a delicate lemon herb olive oil dressing with piment d' Esplette right before grilling. We love serving the veggies over a bed of Israeli Pearl Couscous with some of the flavored olive oil and lemon drizzled over. 
Servings: 4
Recipe and photo by: Bebe Black Carminito
INGREDIENTS: 
MARINADE FOR PANEER

2 Packs(12 ounces) original paneer cubed to 3/4 inch
1/4 cup olive oil
1/4 teaspoon of piment d' Esplette
2 tablespoons fresh oregano leaves
1 clove of garlic, sliced
juice of 1/2 lemon
pinch of kosher salt

 

TO SERVE

2 cups of Israeli Pearl Couscous cooked as per package instructions
Piment d'Esplette Oil
Lemon wedges
Fresh parsley and or fresh oregano finely chopped sprinkled over

 

FOR THE KEBABS

Marinated paneer

1/4 cup olive oil

juice of 1/2 of a lemon

1 clove of garlic minced

1 1/2 teaspoon of dried oregano 

1/4 teaspoon of Piment d'esplette 

Pinch of kosher salt

1 Zucchini sliced in rounds

1 yellow/Orange bell pepper quartered and sliced into chunks 

20 baby Bella mushrooms stems removed

10 cherry or grape tomatoes 

1 / 2 of a red onion and sliced into chunks

 

SPECIAL EQUIPMENT

8 Metal or bamboo skewers, soaked in water for 30 minutes
INSTRUCTIONS:
Step 1: Marinate the paneer
Place all ingredients in a bowl and cover. Store in refrigerator for 24 hours stirring occasionally. Remove from refrigerator 1/2 hour before using.
Step 2: To make Herbed piment d' Esplette oil for grilling and serving
In a small bowl whisk together olive oil, lemon juice, garlic, oregano, piment d'Esplette, and salt until combined.
Step 3: Prep vegetables and assemble the Skewers
Cut the onion and bell pepper into wedges, and separate them into pieces. Thread the marinated paneer, cherry tomatoes, zucchini, mushrooms, and onion onto eight skewers.
Step 4: Preheat the barbecue or grill and arrange the skewers on the rack.
Brush the piment d' Esplette oil generously on each side of kebabs. Grill for 10 to 15 minutes rotating as needed and add more piment d' Esplette oil as needed.
Serve while still hot with the remainder of the oil drizzled over couscous and the veggies.