Crispy Paneer-Potato Burgers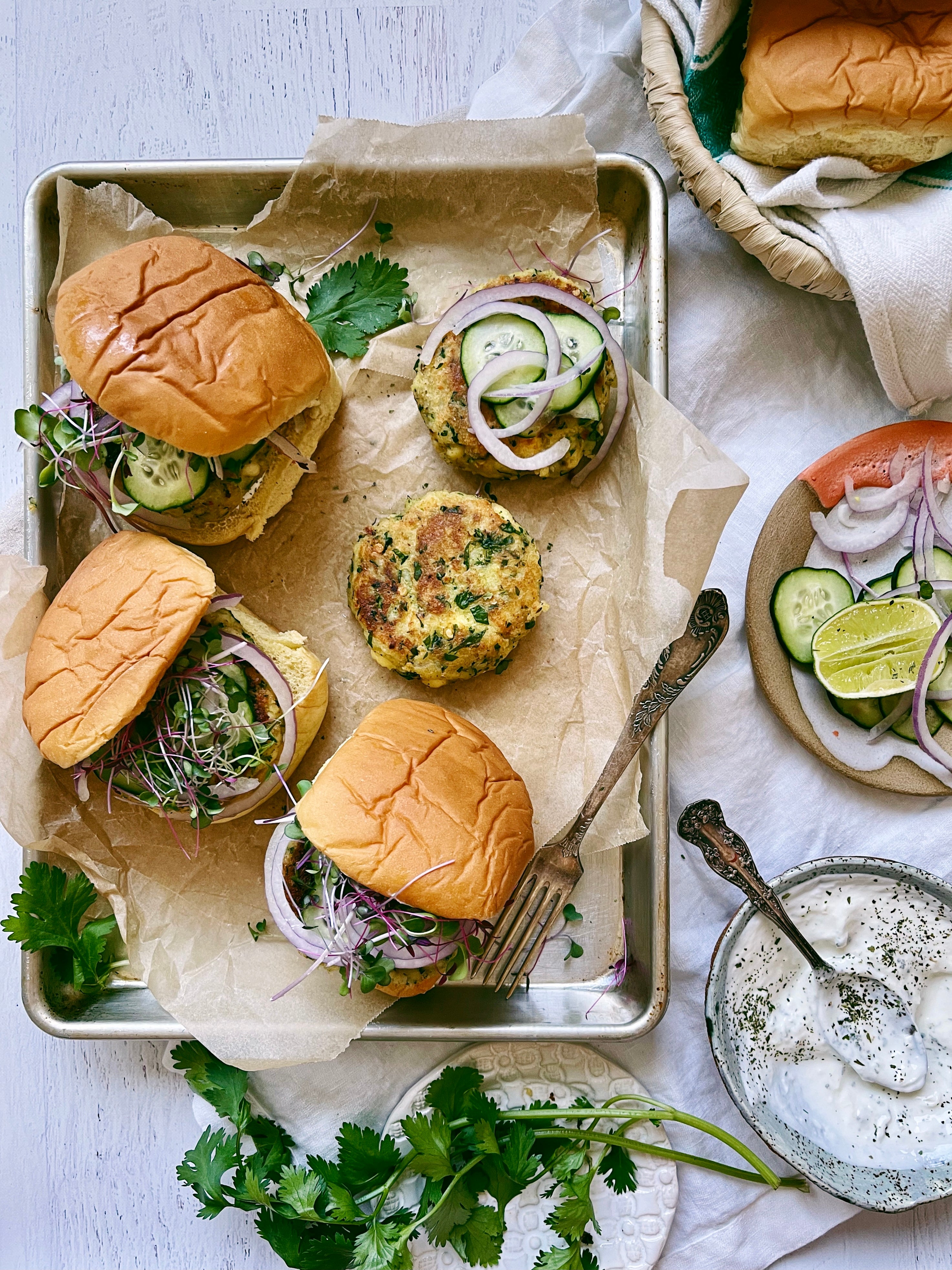 Inspired by the Desi aloo Tikki — this patty is filled with aromatic spices, cilantro, fluffy potato, and grated paneer. We serve them up on a traditional hamburger bun with a garlicky yogurt sauce, thinly sliced onion, and cucumber. Feel free to use ketchup, mustard, and pickles here as well, these burgers are adaptable and go with everything.
Servings: Makes about 6 burgers
Recipe by: Noreen Wasti (@noreenwasti)
INGREDIENTS: 
For the patties: 
1 lbs yellow potatoes, peeled and cubed
6 ounces SACH Foods Original Paneer, grated
1 tsp red pepper flakes
1 tsp garlic powder
1 tsp onion powder
1 tsp ground cumin
1 tsp ground coriander
1 tsp salt or to taste
1 egg, beaten
1 cup loosely packed cilantro leaves, chopped finely
3 Tbsp neutral oil 
For the garlic yogurt
1 clove garlic, grated finely
2 Tbsp lime juice
1/2 cup Greek yogurt
1/4 tsp dried mint
salt, to taste
To make the patties: 
Boil the potatoes in salted water until fork-tender and soft, strain and transfer to a large bowl.
Mash the potatoes using a masher or fork until no large chunks remain.
To the mashed potatoes, add the grated paneer, red pepper flakes, garlic powder, onion powder, ground cumin, ground coriander, salt, beaten egg, and cilantro. Mix well until combined.
 

Use a 1/2 cup measuring cup to scoop out the potato paneer mixture and form into patties.

Heat oil in a large skillet over medium heat. Once the oil is glistening, fry the patties, in batches, until golden brown and crispy, adding more oil if necessary — about 6 minutes per side.
For the garlic yogurt: 
Mix the grated garlic, lime juice, yogurt, dried mint, and salt in a small bowl until combined.
To serve: 
We recommend serving these crispy potato paneer burgers on a hamburger bun with the garlic yogurt, thinly sliced red onion, cucumber, and greens.