Hetal's Ras Malai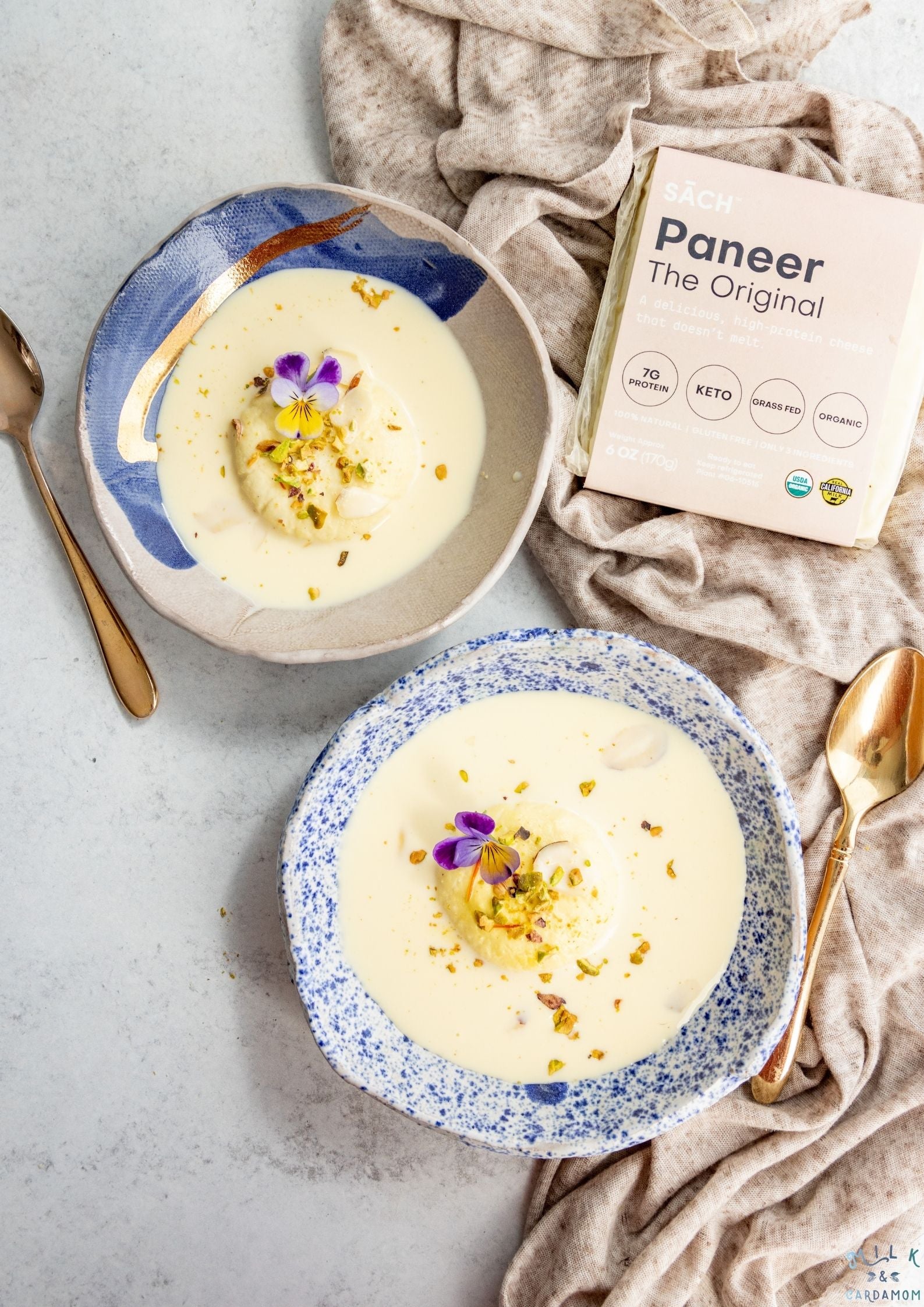 A quick ras malai recipe done in 30 minutes! Soft, melt in your mouth paneer soaked in a sweet, cardamom spiced milk.

Servings: 10
Recipe by: Hetal Vasavada (@milkandcardamom)
 INGREDIENTS: 
6 oz of paneer, frozen and then brought to room temperature
1/4 tsp baking soda
1 tbsp powdered sugar

SYRUP


MALAI


1 cups whole milk
1 cup sweetened condensed milk
1 cup evaporated milk
1 cup heavy cream
1/4 tsp ground cardamom
1/2 tsp rose water
pinch of saffron

 
INSTRUCTIONS
:
Add the

 

6 oz paneer

 

that has been frozen and then thawed to room temperature, to a small bowl and knead for 2 minutes.
Add

 

1/4 tsp baking soda

 

and

 

1 tbsp powdered sugar

 

and knead for 5 minutes, or until the dough is completely smooth. Break the paneer up into 10 even pieces and roll each piece into a ball and flatten between the palms of your hands. Set aside. 
Bring

 

5 cups of water

 

and

 

1 cup of sugar

 

to a boil in a saucepan over high heat. Once it comes to a boil, lower the heat to medium and add the flatten paneer to the sugar syrup. Simmer for 15 minutes while covered. 
Fill a large mixing bowl with ice. Once the paneer is done simmering. Add 1 cup of the hot sugar syrup to the ice along with all the paneer. Let it sit for 5 -10 minutes to cool. 
While the paneer is cooling down, mix the milk mixture. Add

 

1 cup of whole milk, 1 cup sweetened condensed milk, 1 cup heavy cream, 1 cup evaporated milk, 1/4 tsp of cardamom, and a pinch of saffron

 

to a large container. Whisk until well combined. 
Gently pick up the cooled paneer and lightly squeeze to get rid of any excess syrup and add to the milk mixture.
Repeat until all the paneer has been added to the milk mixture.
Refrigerate for at least 4 hours, overnight is best for the best texture and flavor!