Palak's Paneer Kathi Rolls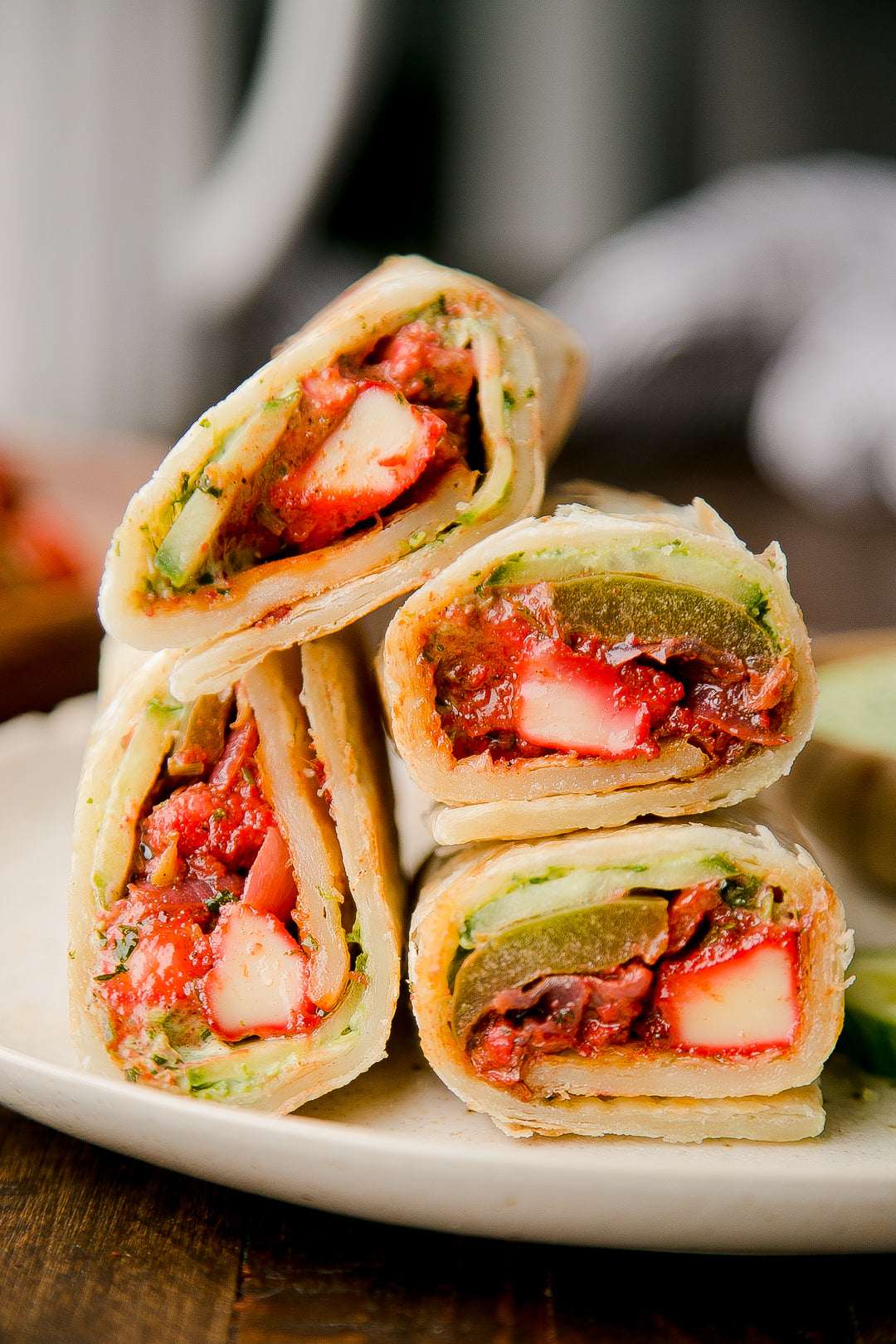 Here is a step-by-step guide on how to make Paneer Kathi rolls - A popular Indian tortilla wrap filled with marinated paneer and buttery veggies. 
Serving Size: 8
Recipe by: Palak Patel (@thechutneylife)
 INGREDIENTS: 
 

For the Paneer Marinade:

1/3 cup plain yogurt
12 oz Sach Foods Paneer
1 tbsp minced garlic
1.5 tbsp tandoori masala
1 tbsp garam masala
1 tsp cumin powder
1/2 tbsp red chili powder
1/4 tsp white pepper
1/2 tsp fennel powder
1 tbsp oil

 

Remaining Ingredients for Kathi Rolls:

2 tbsp oil

1 tsp cumin seeds

1 onion, diced

1/2 red bell pepper, diced

1/3 green bell pepper

3 large cloves garlic, grated/minced

1/4 cup chopped fresh cilantro

Tortilla/Paratha for Kathi Rolls

sliced cucumbers to place inside Kathi Rolls
INSTRUCTIONS
:
Marinate the Paneer:
Mix all of the marinade ingredients together in a bowl and whisk until well combined.
Fold in the paneer gently, cover, and place in the refrigerator for a few hours or overnight.
Make the Kathi Roll Filling:
Heat a large skillet over medium high heat and add the oil. Once the oil is hot add the cumin seeds and let them splutter for a few seconds.

Add the onions and bell peppers and 

sauté for 4-5 minutes until they are slightly softened and then add the garlic. S

auté the garlic for 2-3 minutes until fragrant and then add in the paneer along with all of the marinade.

Cook the paneer, stirring gently for about 5-6 minutes 

until the paneer is soft. Taste for salt, adjust if necessary and then add the cilantro and turn off the heat.
Jalapeno Cilantro Sauce:
Place all of the ingredients in a food processor/mini chopper and blend well until combined.
Assembling the Kathi Rolls:
Spread each of the tortilla/paratha with a generous spoonful of cilantro jalapeno sauce or the sauce of your choice, add sliced cucumbers, top with a couple of spoonfuls of the paneer filling and then roll up tightly.

Cut in half, serve with additional cilantro jalapeno sauce and enjoy!