Paneer Biryani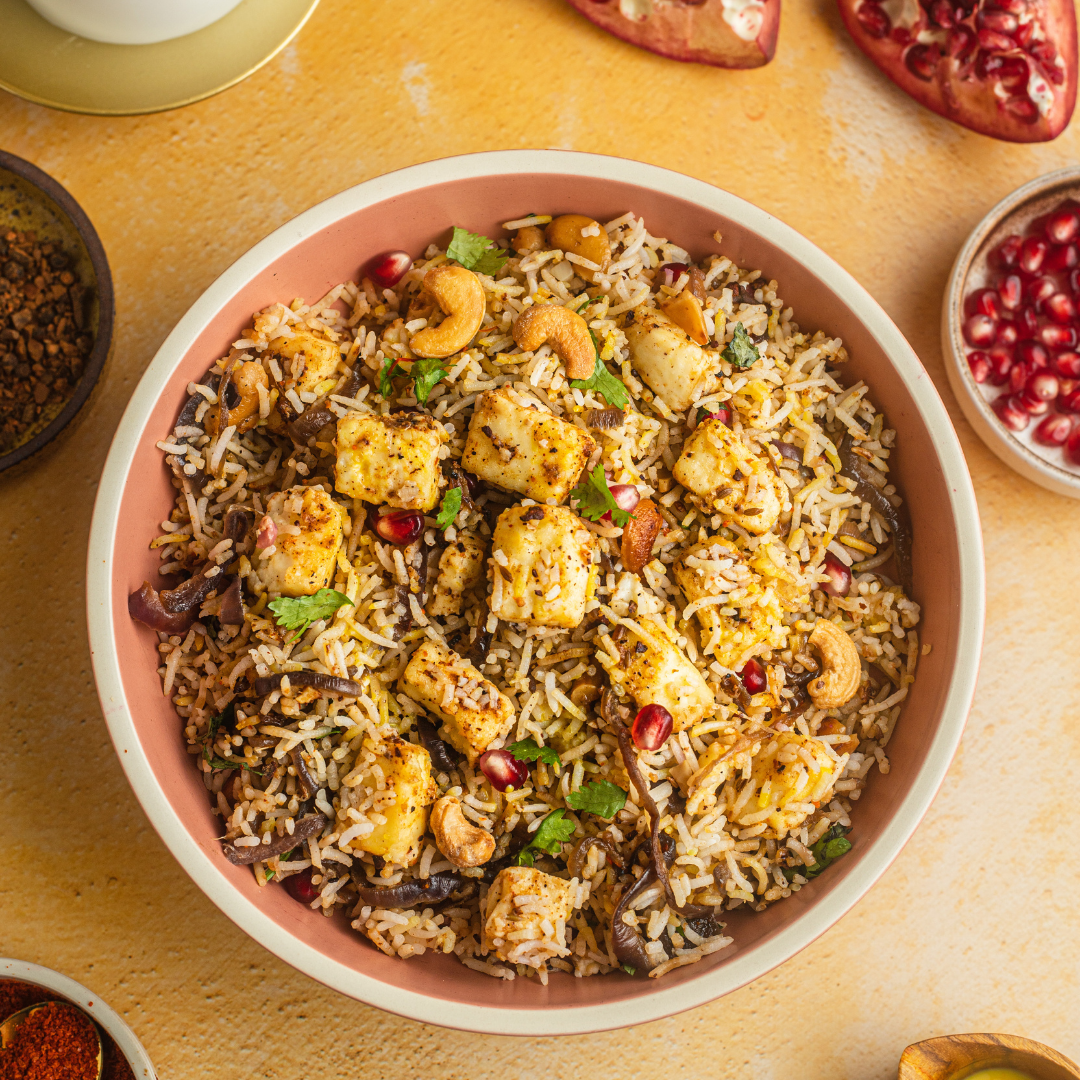 Paneer Biryani is a rich, comforting dish perfect for Diwali. This recipe was adapted from Cook with Manali and features aromatic basmati rice with spices, marinated paneer and onions topped with cilantro and pomegranate seeds. If you'd like, you can also deep-fry half the onions for a crispy topping. 
Tip: Some biryani masalas come in a coarser texture, with small bits and pieces of spices. We recommend grinding these into a smooth, fine powder prior to cooking. 
Photo by: Karishma Pradhan 

INGREDIENTS: 
Paneer Marinade
2 tablespoons full-fat yogurt
1 teaspoon biryani masala (or garam masala)
1/4 teaspoon Kashmiri chili powder or mild chili powder
1/4 teaspoon kosher salt
1 Pack (6-oz) Sach Original Paneer, cubed
Rice
1 cup basmati rice
1 tablespoon milk mixed with a small pinch of saffron threads
2 tablespoons ghee, divided
1 medium red or yellow onion, thinly sliced
2 cloves
4 green cardamom pods
3/4 teaspoon cumin seeds
1.5 teaspoon minced ginger
1.5 teaspoon minced garlic
1 tablespoon roughly chopped cashews
1 1/4 cups water, divided
1/2 teaspoon biryani masala (or garam masala)
1/2 teaspoon salt, or more to taste
1 teaspoon rose water
½ cup chopped cilantro for garnish
½ cup pomegranate seeds
INSTRUCTIONS
:
For the marinade: In a medium bowl, add yogurt, masala, chili powder, and whisk to combine. Stir in cubed paneer, cover with plastic wrap, and place in the fridge to marinate for at least 30 minutes up to 4 hours.
Soak the rice: In a fine-mesh sieve, rinse the basmati rice for about 1 minute until the water just barely runs clear (it will never run completely clear). Submerge the rice in water completely and soak for 30 minutes. After 30 minutes, drain the rice in the sieve and set aside.

Heat the milk in a small bowl for about 15 seconds until warm, then stir -- you should see the saffron begin to turn the milk yellow. Set aside.

Prep the biryani base: On your Instant Pot, press the 'Saute' setting'. Add 1 tablespoon of ghee, and when hot, cook the sliced onions for 7 to 8 minutes until nicely browned. Remove onions from the pot and set aside. Still on 'Saute' mode, add the remaining tablespoon of ghee and whole spices to the pot until sizzling. Next, add the minced ginger, garlic, and cashews and cook for 1 to 2 minutes until ginger and garlic are aromatic, and cashews are toasted. Stir in the marinated paneer along with 1/4 cup of water to deglaze the bottom of the pot, scraping up any bits as needed. Add the remaining 1 cup of water and rice.
Layer the biryani: Add the masala, salt, 1/2 of the fried onion, saffron milk, and rose water on top.
Cook the biryani: Close the lid and make sure the knob is in the 'Sealing' position. Press either the 'Manual' or 'Pressure Cook' setting and let rice cook on high pressure for six minutes. After six minutes, do a natural pressure release for 5 minutes, then turn the knob to 'Venting' to quickly release the pressure and open the lid. Fluff the biryani with a fork.
Serve: Plate the biryani on a serving platter or in serving bowls. Top with the remaining onion, cilantro, and pomegranate seeds.