Roasted Paneer Tacos with Sweet Potatoes, Chickpeas & Cilantro-Mint Raita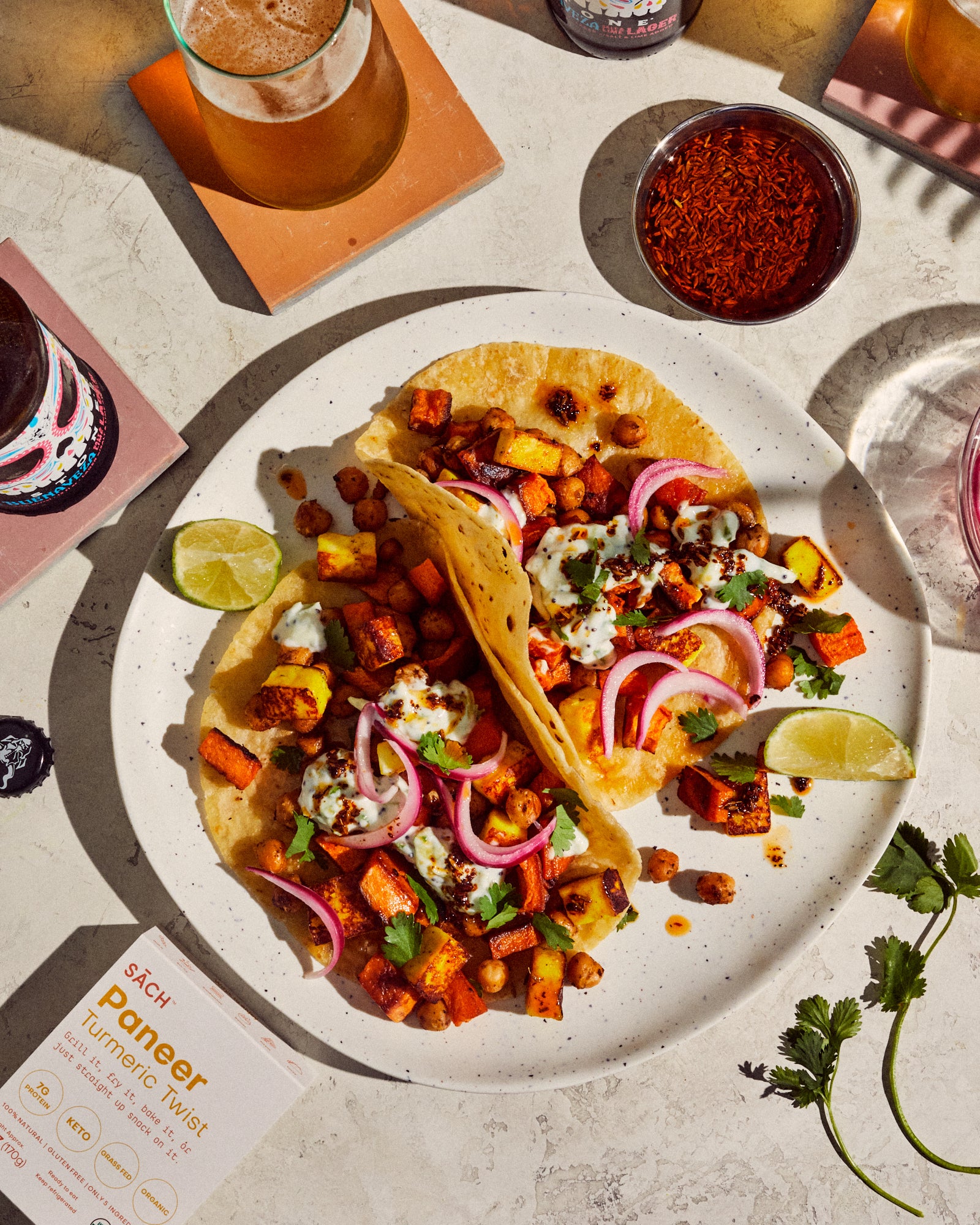 Paneer and Chickpeas tacos with Cilantro-mint Raita – A recipe for about the simplest taco night ever! Low-effort, nourishing, and light - It is a "fancy" dinner that is super easy to make and absolutely delicious.

Photo by: Mackenzie Smith Kelley

INGREDIENTS: 
1 Pack (6oz) of Sach Original Paneer, cubed 

1 can chickpeas, drained and rinsed
1 cup of diced sweet potatos, fresh or frozen
1 tbsp Olive oil or Ghee
1-2 tsp cumin
1 tsp garlic powder
1 tsp onion powder
1 tsp Kashmiri chili powder or other mild chili powder
1/2 teaspoon ground turmeric
1 tbsp fresh lime juice
Salt
For Cilantro-Mint Raita Dip:
1 cup yogurt
1/2 cup finely chopped herbs - a mixture of cilantro, and mint
1/2 teaspoon onion powder
zest of one lime
1 teaspoon sea salt
Sprinkle with red chili flakes
For Serving
Corn tortillas, warmed
2 tablespoons loosely packed cilantro, finely chopped
INSTRUCTIONS:
Marinate the paneer, sweet potato and chickpeas: In a medium bowl, whisk together chili powder, garlic powder, onion powder, cumin, salt, lime juice, olive oil. Stir in cubed paneer, sweet potatoes and chickpeas. Marinate for 10-15mins.
Set a medium skillet to medium heat. Once the oil begins to sizzle, add the marinated paneer, sweet potatoes, and chickpeas. Roast for a few minutes, until the paneer is roasted, sweet potatoes are cooked, and chickpeas become slightly crispy. Remove from the heat and set aside.
Season again with salt, if needed.
For the dip: Mix all the ingredients but the chili flakes together, and top it with chili.
Assemble the taco: Take a corn tortilla and top it with a generous serving of roasted paneer and chickpeas. Top it with the Cilantro-mint Raita. Garnish with minced cilantro and pickled red onion.