Paneer Summer Rolls with Peanut-Tamarind Dipping Sauce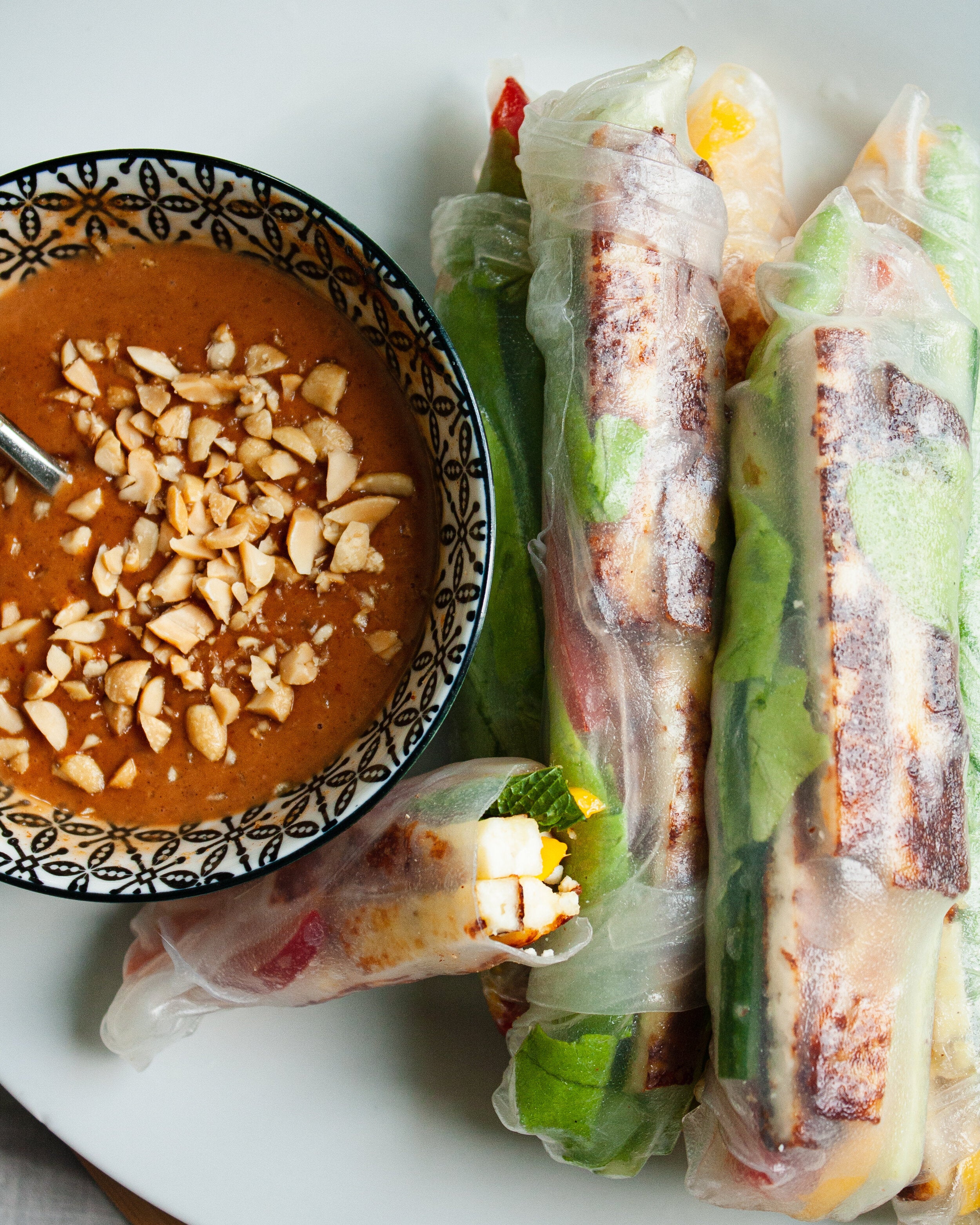 Somewhere between a salad and a sandwich, these soul-soothing paneer summer rolls are filled with fresh ingredients such as paneer, mango, red pepper, and mint, and are an ideal make-ahead appetizer or lunch.
Servings: Serves 2 as a main or 4 as an appetizer
Recipe by: Karishma Pradhan (@homecookingcollective)
INGREDIENTS: 
6oz Sach Paneer 
1 red bell pepper, cut up into 1/3" strips
1 small persian cucumber, cut up into 1/3" strips
1 ripe mango, cut up into 1/3" strips
A handful of mint leaves
A handful of lettuce
3 tbsp peanut butter
3 tbsp tamarind chutney
1/2 tbsp soy sauce
1 tbsp hoisin sauce
1/2 tbsp sambal (optional, if you want a bit of spice)
3 tbsp water, or more to thin out the sauce
1.5 tbsp chopped peanuts for garnish
6 Rice Paper Wrappers (round is ideal, but square is fine too!)

Salt and black pepper for seasoning

INSTRUCTIONS
:
Cut the square block of paneer into 1" wide strips (so each strip should be about 4" wide by 1" long).
Heat a medium cast iron or skillet with 3 tbsp oil on medium heat. Once hot, add the paneer and cook about 1 minute on each side until golden brown. If the paneer is sticking to the pan, you can add a bit more oil as that will help loosen it, and try to firmly flip it with a metal spatula. Remove from the oil with a slotted spoon and let cool to room temperature on a cooling rack or paper towels to help drain. Once cool, cut into 1/3" x 4" pieces.
For the sauce: In a small bowl, mix the peanut butter, chutney, soy sauce, hoisin, sambal (if using), and water until blended. Taste and adjust for seasoning — add additional soy sauce if you want it saltier or tamarind chutney if you'd like it sweeter. If the sauce is still too think, slowly add a bit more water, 1 tsp at a time until it reaches the desired consistency and season again. Top the sauce with chopped peanuts.
To prep the summer rolls, fill a pan large enough to soak the wrappers with about 1/2" of warm water (I used a 9x13 pan). Grab a separate plate or cutting board that you can use to roll the wrappers. Dip each summer roll in the water for about 5 seconds until softened, then place on the plate/cutting board, and smooth out any creases in the wrapper.
Labeling the bottom of the wrapper as the section closer to you, lay 3-4 pieces of paneer about 2" from the bottom, then layer with the red pepper, cucumber, mango, lettuce, and mint leaves. Grab the bottom of the wrapper with your fingers and tightly fold over the filling, then continue rolling the summer roll until completely enclosed. This may take some practice to ensure it's as tight as possible.
If you have empty space on the sides of the wrapper, you can fold the outer sides inward. Here's a video demonstrating the entire rolling process.
Continue with the remaining wrappers until all the filling has been used. Enjoy!