Habanero Paneer Fries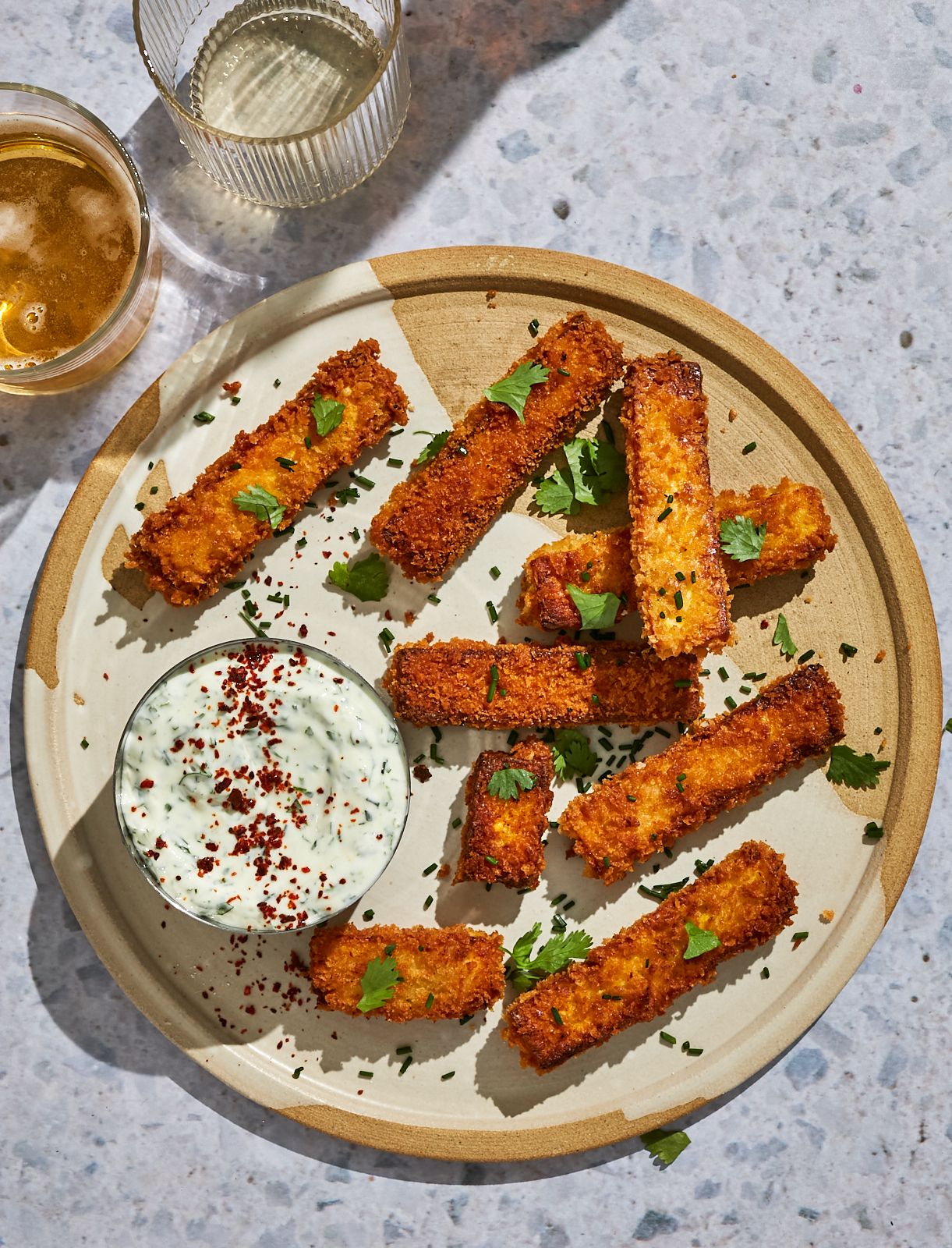 Hot fried crispy cheese + creamy, zesty dipping sauce, yes please! 
Using beer and panko in the batter makes an extremely crispy coating for the paneer. The herby yogurt dipping sauce is loosely inspired by my love for both raita and ranch dressing. My favorite combination of herbs is cilantro, parsley, mint and dill, but any or all of these will work here. 
Serving Size: 4 
INGREDIENTS: 
2 packages of SACH Habanero Paneer

1 cup grapeseed oil, or other flavorless oil with high smoke point
Panko Beer Batter
1 cup flour

1 tbsp cornstarch

1 tsp salt

3/4 tsp garlic powder

3/4 tsp onion powder

fresh cracked black pepper

1 1/2 cups beer 

1 1/4 cups panko breadcrumbs
Herby yogurt with garlic and lime
1 cup yogurt
1/2 cup finely chopped herbs (a mixture of cilantro, parsley, mint and dill is my favorite)
1 clove garlic
½ teaspoon onion powder
zest of one lime
1 teaspoon sea salt
Sprinkle with red chili flakes
INSTRUCTIONS:
Cut both blocks of SACH paneer into 8 uniform strips, set aside. In a medium mixing bowl, whisk together flour, cornstarch, salt, garlic powder, onion powder, and a few turns of fresh cracked black pepper. Stir in beer until mixture is the consistency of a thin pancake batter. Add panko to a separate bowl. 

Heat oil on medium-high until it is 365

℉.

One at a time, dip each strip of paneer into the beer batter, allowing any excess batter to drain back into the bowl as you remove it. Place in panko and turn cheese until all sides are coated.
Add battered cheese to hot oil, and cook on each side for 2-3 minutes, or until golden brown. Do not add more than 4-5 pieces of paneeer to the pan at a time. Once cooked, place paneer on a wire rack or a few sheets of paper towel to drain. 
For the dip: Mix all the ingredients but the chili flakes together, and top it with chili.