SPICY PANEER AND WAFFLE SLIDERS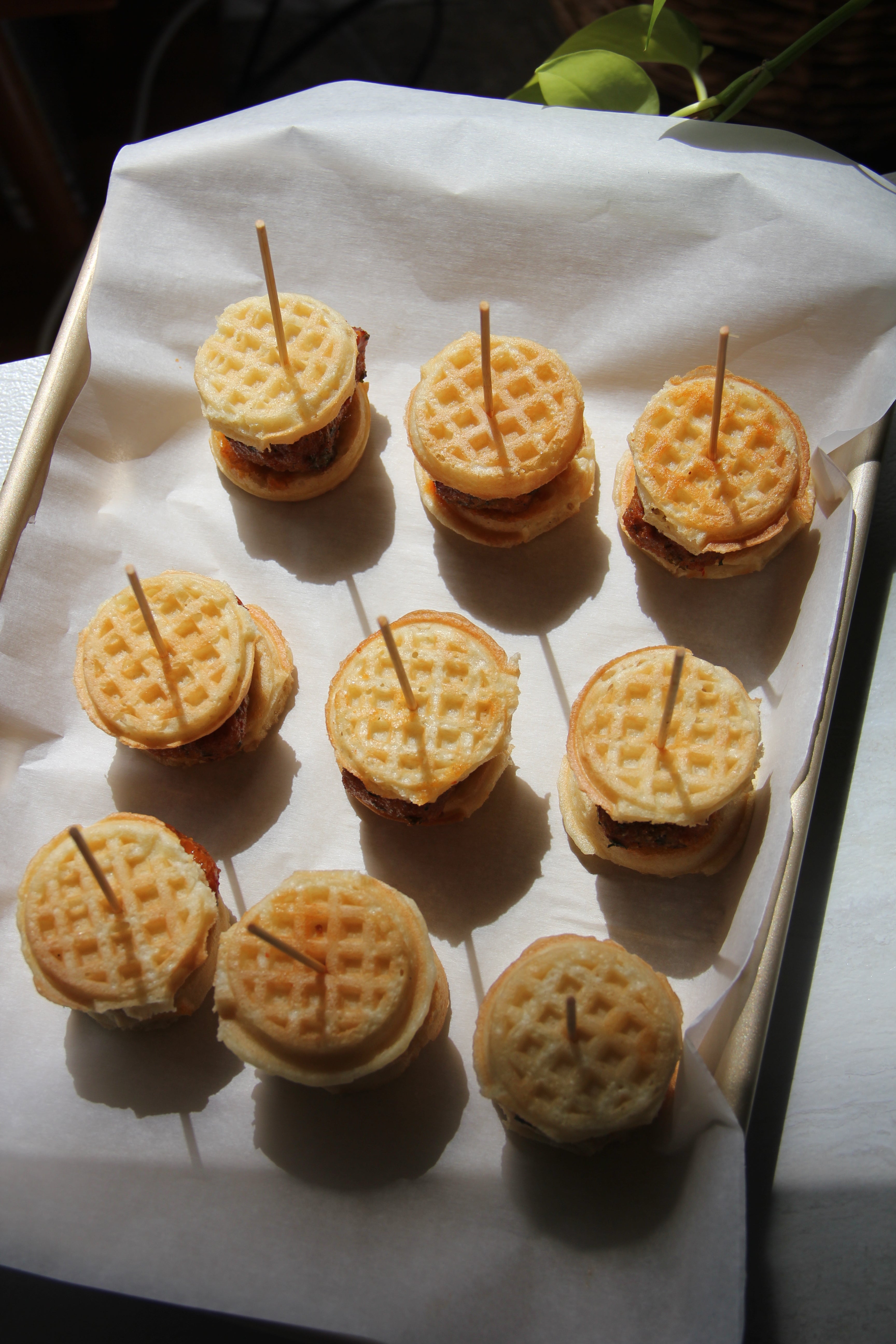 A perfect brunch recipe - these crispy, spicy, and sweet, these petite paneer and waffle bites are as delightful as they are adorable!Servings: Serves 2
Photo by: Sophia (@sophandspice)
INGREDIENTS
For the paneer:
1 pack @sachfoods original paneer
2 eggs, beaten
1/2 tbsp @peepalpeople Bhoot bangla hot sauce
1 cup seasoned breadcrumbs
For the sauce:
1 tsp chili flakes
1 tsp dried parsley
3 tbsp hot melted butter
2 tbsp @peepalpeople Bhoot bangla hot sauce
1 tbsp honey (we used @manwithnicewife honey)
Frozen mini waffles
Cooking spray
INSTRUCTIONS:
1. Start by slicing the paneer - cut it into 4 equal sized cubes, then each of the cubes into 3 equal pieces.
2. Set up a dredging station by whisking 2 eggs with the Bhoot bangla hot sauce in one bowl, and the seasoned breadcrumbs in another.
3. Coat the paneer in the egg wash, then the breadcrumbs, then again in the egg wash and breadcrumbs so it's fully coated.
4. Line a baking dish with parchment paper, spray it with cooking oil. Arrange the paneer on the dish so it's evenly spread and isn't sticking together. Spray it with another layer of oil and bake in at 350 degrees for 15-20 minutes, flipping half way through.
5. While the paneer is baking, heat the butter and combine it with the remaining sauce ingredients and set aside.
6. Pull your mini frozen waffles out of the freezer, break them apart and line them on another parchment lined dish.
6. When the paneer is ready, let it sit for 5 minutes, then pop it in a bowl, pour the sauce over it and toss to coat.
7. Sandwich the paneer between the mini waffles and secure with mini skewers or toothpicks.
8. Then pop them back in the oven for 3-4 minutes until the waffles are crispy and warmed though.
9. Enjoy immediately!!!