Inday's Sweet-Chili Paneer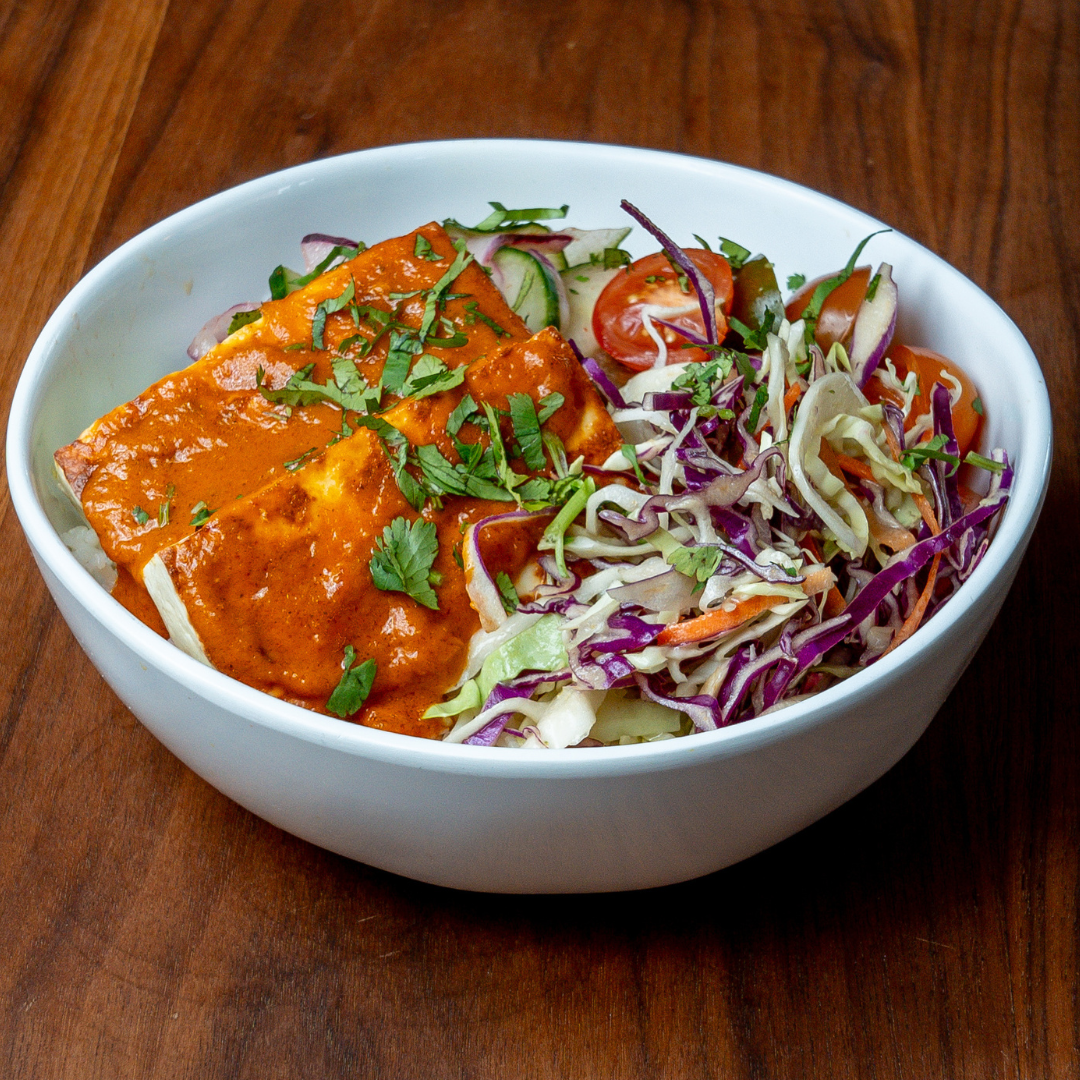 Grilled Paneer brushed with sweet chili glaze. 
Recipe and photo by: Chef Jonathan Check (from Inday)
INGREDIENTS
For the sweet-chili sauce:
2 tablespoons blended oil
1/2 cup chopped garlic 
1/4 cup chopped ginger 
1/4 cup tomato sauce 
1/4 cup sambal olek chili paste 
2 tablespoons honey
2 tablespoons soy sauce 
1/2 cup coconut milk 
1/2 cup water 
salt to taste 
1 pack (6oz) Sach Original paneer
1 tablespoon blended oil
1 tablespoon chopped curry leaves 
1 teaspoon mustard seeds
1/2 a green chili sliced very thinly (serrano or indian, depending on your heat preference)
1 tablespoon chopped garlic 
1/4 cup large dice onion
1/4 cup large dice green peppers 
1 cup sweet chili sauce 
1/4 cup water 
1 tablespoon chopped cilantro 
INSTRUCTIONS:
Make the sauce:
In a saute pan or rondeau, sweat the garlic and ginger  stirring occasionally until it is soft. Add the remaining ingredients and simmer for 5-10 minutes until the flavors have melded.
Make the sweet chili paneer:
Heat the oil in a pan and temper the mustard seed and curry leaf. add the garlic, green chili, peppers and onions and saute on very high heat for 30 seconds or so to char the vegetables. Add the paneer and continue cooking. Add the sweet chili sauce and the water and simmer down until the paneer is soft and the sauce has reduced to a glaze. Garnish with chopped cilantro. Serve with rice, naan, flaky parathas or scallion pancakes.