Amritsari Paneer Kulcha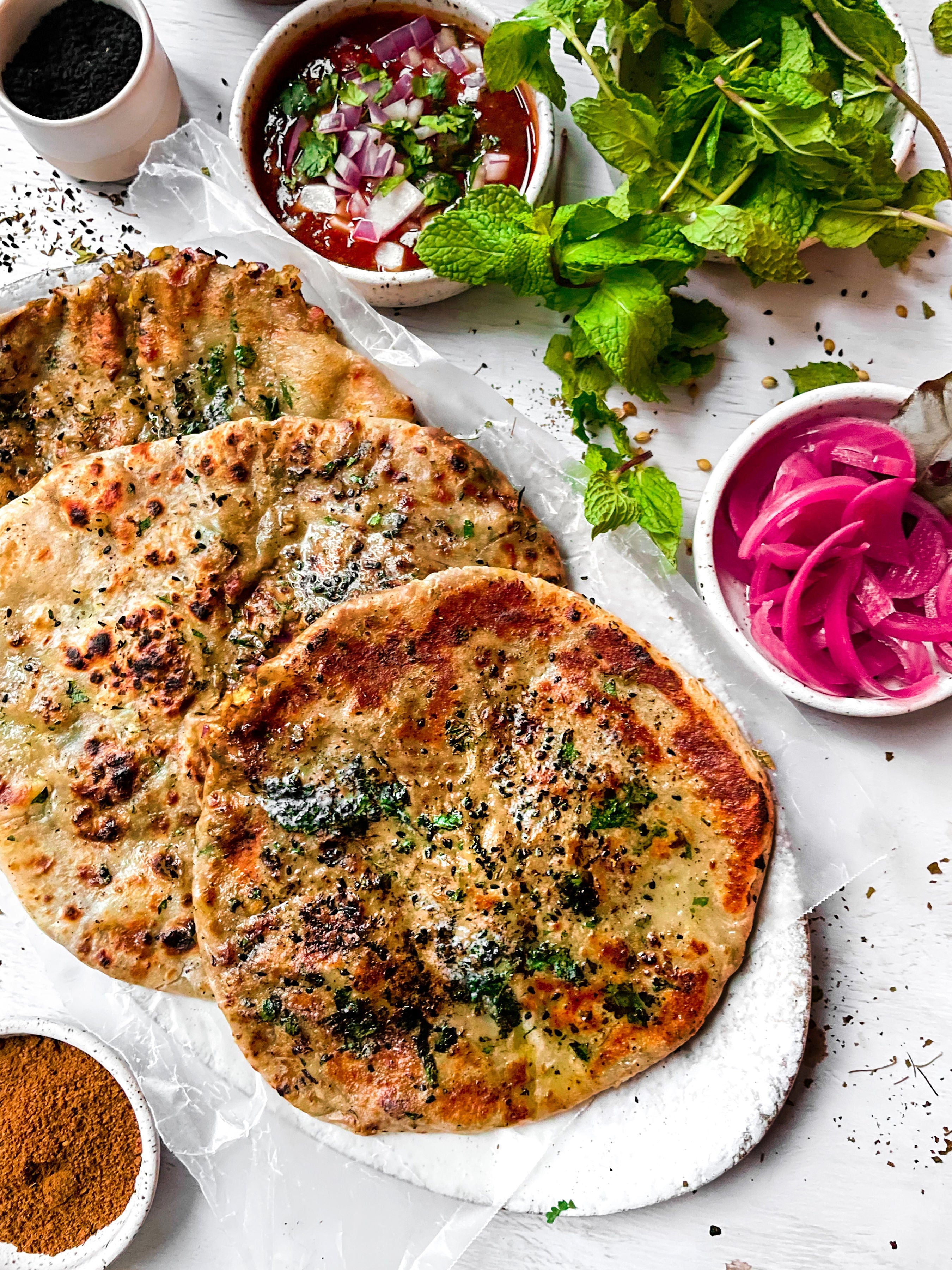 Servings: Makes about 7-8 kulchas
Recipe adapted by: Chef Sanjyot Keer (Your Food Lab)
Photo by: Deepika Kalla (@thedeeperlivingeats)
INGREDIENTS: 
For making Kulcha dough
1/2 cup lukewarm water 

1/4th cup lukewarm milk

1/2 cup Greek yogurt for added protein

2 tbsp Sugar 

2 tbsp Ghee

3 Cups All-purpose Flour 

1 tsp Baking powder 

1/4th tsp Baking soda 

Salt to taste
For Kulcha filling
1 pack (6oz) of Original Paneer or Spicy Habanero Paneer, grated

1-2 medium-sized boiled potatoes, grated 

1 medium-sized red onion, chopped

1 inch Ginger, chopped

2-3 Thai green chilies or serrano peppers, chopped (optional)

2tbsp  fresh cilantro, chopped

2 tbsp fresh mint, chopped

1 tbsp Cumin powder

1.5 tbsp Coriander powder

1 tbsp Red chili powder or any other mild chili powder

1 tbsp Dry mango powder

2 tsp Anardana (

Pomegranate)

powder (optional)

1 tsp black salt (optional)

1tsp Carom seeds (optional)

Salt to taste
INSTRUCTIONS:
To make the Kulcha Dough:
 In a mixing bowl, add warm water, warm milk, yogurt, sugar, and ghee. Mix well with a fork until the sugar dissolves. Now add all the dry ingredients(all-purpose flour, baking powder, and baking soda)  to the water-milk mixture and combine well to start bringing the dough together. 

Transfer the dough onto a clean working surface or in a dough maker or in a stand mixer with the dough hook. Knead well. 5-7 mins if using a stand mixer or at least 12-15 minutes if stretching with hands. The dough would feel sticky in the start but will smoothen as you continue to knead. 

Divide the dough into 7-8 parts and roll each piece into a small ball. Apply some ghee over the dough balls and rest the dough in a warm place for at least an hour. 
To make the Kulcha filling: 
For making the filling, add grated potatoes, grated paneer, chopped onions, ginger, and chilies along with all the spices in a mixing bowl. Mix well until combined. 
Forming, rolling, and cooking the Kulchas
Dust the working surface with a little bit of all-purpose flour. With the help of a rolling pin or by hand, spread dough balls in a small disc.  In the center put spiced paneer filling. Pull the sides of the dough and try to cover the filling and close it into a ball. Repeat the process for the remaining dough balls.
To make the Kulchas

, take one piece of the stuffed dough balls and roll it into an 8-inch circle using a rolling pin or by gently pressing and spreading the dough using your hands. Make sure to not roll them very thin. 

Cooking the Kulchas in the oven:

Preheat the oven to the highest setting or at least 500 degrees. Place your pizza stone, wire tray, or sheet pan to preheat as well. Once done, carefully remove your preheated pizza stone and place your formed Kulchas on it. Bake Kulchas in a preheated oven at 500 degrees for about 8 minutes or until golden brown. Remove from oven and butter them up to serve. 

Cooking the kulcha on the stovetop:

Heat a skillet over medium heat. Add one of the stuffed and rolled Kulchas. Cook them on each side for about 2-3 minutes while applying ghee until golden brown as in the picture. Repeat the cooking process with the remaining Kulchas. Serve warm with more ghee or butter on the top.