Habanero Paneer Kofta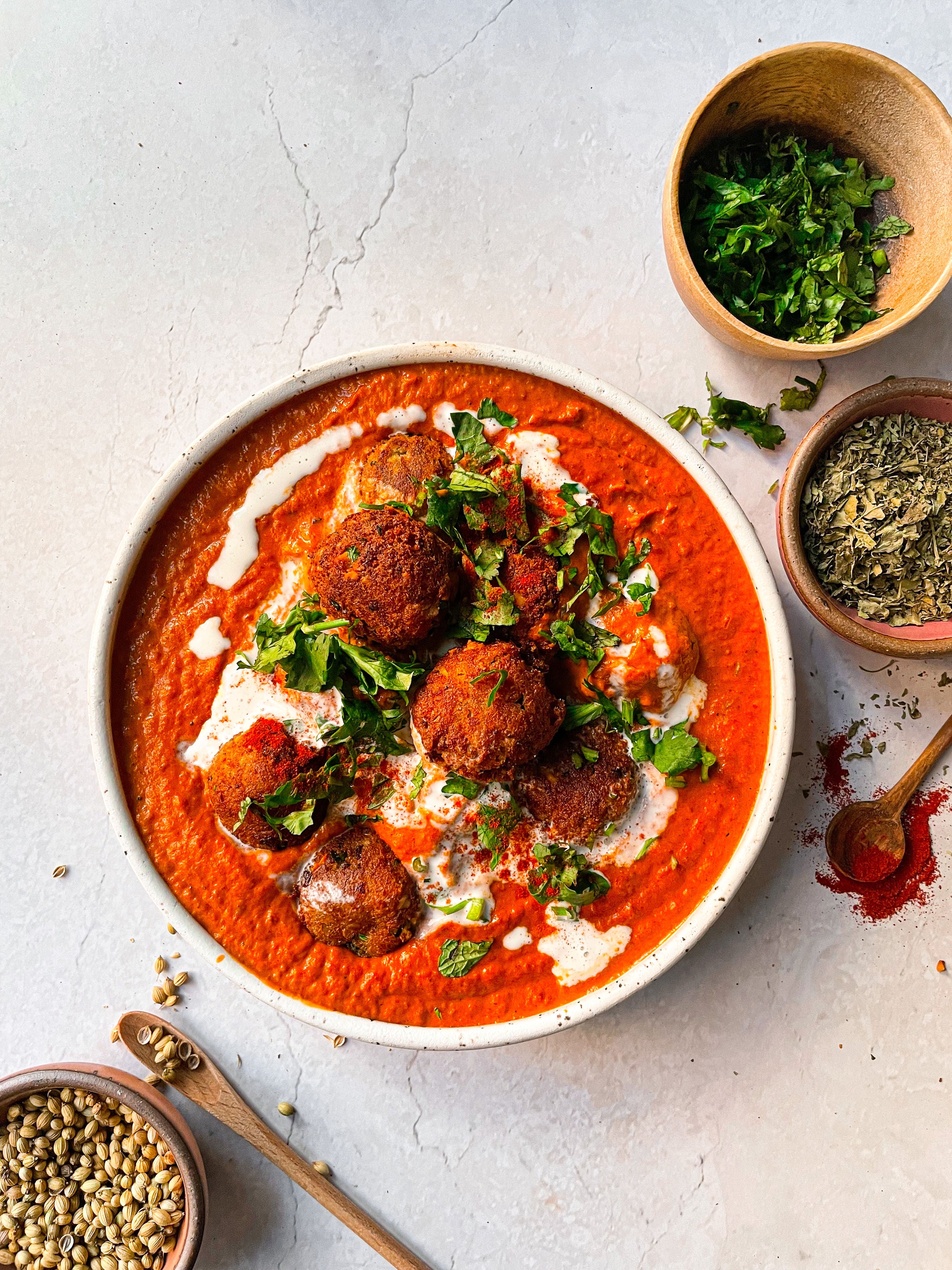 Servings: Serves 4 

Photo by: Deepika Kalla (@thedeeperlivingeats)
INGREDIENTS: 
For making kofta balls 
1 pack (6oz) Spicy Habanero Paneer, grated

2-3 medium sized boiled potatoes, grated

1 tbsp cornstarch

1 tsp red chilli powder

1 tsp coriander powder 

Any neutral Oil for frying
For the tomato sauce/gravy: 
2 tbsp butter
4-5 nos garlic cloves
1 inch Ginger
2 medium sized onion, roughly chopped
4-5 medium sized tomatoes, chopped
7-8 cashew nuts
1-2 green chillies
2 tsp cumin seeds
1 tbsp ground coriander
1 tsp red chilli powder
]1 tbsp dried fenugreek, crushed
1 tbsp neutral oil
1-2 tbsp heavy cream
1 tsp garam masala (optional)
Kosher salt (To taste)
INSTRUCTIONS
:
Soak 7-8 cashews in 1/4 cup of hot water
To make the Kofta balls: 
Add grated potatoes and Habanero Paneer in a mixing bowl along with corn starch, salt, coriander and chili powder. Combine well and knead until the mixture forms a smooth dough. Cover and set aside or refrigerate for about 30 minutes.

Take a 

tablespoon of the kofta mixture and shape into medium sized balls.

Coat it with dry cornflour or arrowroot powder for extra crispiness. 

Heat any neutral oil (like Canola or Avacado oil) in a dutch oven or wok over medium high heat to 300°F. Gently place a batch of these balls in oil and fry until crisp and golden brown. Transfer the fried kofta balls to a paper towel-lined baking sheet or platter. Repeat the frying process with the remaining koftas.
For the creamy buttery tomato sauce: 
Heat  2tbsp (or less) ghee in a large skillet over medium heat. Once the ghee is hot, add 1 tsp cumin seeds, ginger, and garlic, onions, and saute for 3-4 minutes, until the onion is translucent.
Add in the roughly chopped tomatoes, green chilies, and the soaked cashews along with the water. Give everything a good toss and cover and cook on low/medium heat for about 15 mins.
Remove from the heat and cool at room temperature for 5 minutes.
Transfer the mixture to a blender and add a few tablespoons of water if the mixture looks too dry. Blend on a medium speed until silky smooth. Once blended, set aside.
In the same skillet, melt the butter over medium heat. Once the butter melts, add 1tsp Kashmiri chili powder. 
Reduce the heat to low, add blended tomato mixture, cubed paneer, sugar (optional) and salt. Cook for 7-8 minutes on medium heat until reduced to a rich and glossy sauce.