Chef Maneet's Paneer Kathi Roll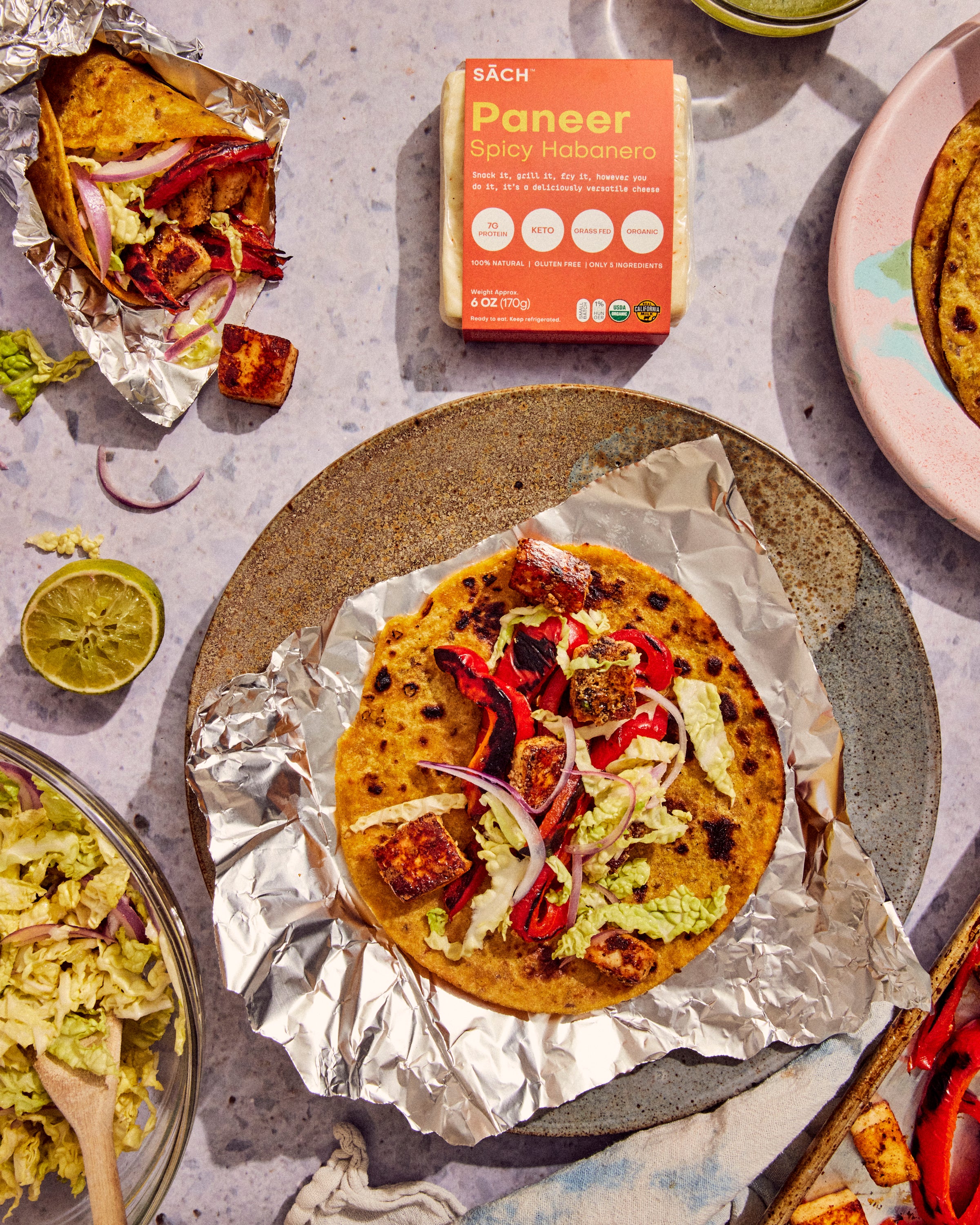 Serves: 4-6
Recipe by : Chef @maneetchauhan via @foodandwine
Photo by: Mackenzie Smith Kelley
INGREDIENTS: 
Cabbage Salad
To Serve:
 INSTRUCTIONS:
Stir together yogurt, garlic, ginger, garam masala, lemon juice, chaat masala, and turmeric in a medium bowl until combined; measure 1/4 cup yogurt marinade into a separate small bowl. Add onion and bell pepper to remaining marinade in medium bowl; toss to coat.
Add paneer to 1/4 cup marinade in small bowl; toss to coat. Cover each bowl; refrigerate at least 30 minutes or up to 8 hours.
Preheat oven to 500°F with oven rack 6 inches from heat source. Spread marinated vegetable mixture in an even layer on a rimmed baking sheet lined with aluminum foil.
Roast in preheated oven until mixture is just charred in spots, about 12 minutes, stirring once halfway through cook time. Remove from oven.
Increase oven temperature to broil. Stir marinated paneer into vegetable mixture on baking sheet. Return to oven, and broil until paneer is cooked through and vegetables are crisp-tender, 6 to 8 minutes.
Transfer mixture to a medium bowl; toss with salt. Cover to keep warm; set aside. Reduce oven temperature to 200°F. 
Make the cabbage salad: Rinse onion under cold water; drain. Stir together onion, cabbage, lime juice, jaggery, salt, and pepper in a medium bowl. Set aside.
Assemble the rolls: Cook tortillas/paranthas according to package directions. Place an 8-inch square piece of aluminum foil on a work surface; place tortilla/parantha on foil so that tortilla is half on foil and half on work surface. Spread 1 tablespoon spicy mango-mint chutney (or any spread of your choice) evenly over paratha. Spread 1/3 cup cabbage salad in center of paratha; top with about 1/3 cup paneer filling. Roll up tortilla burrito-style, folding bottom up and sides in toward center, using foil to secure.
Repeat process using remaining tortillas, chutney, cabbage salad, and paneer filling.