Corn, Nectarine, and shaved Paneer Salad with creamy basil sauce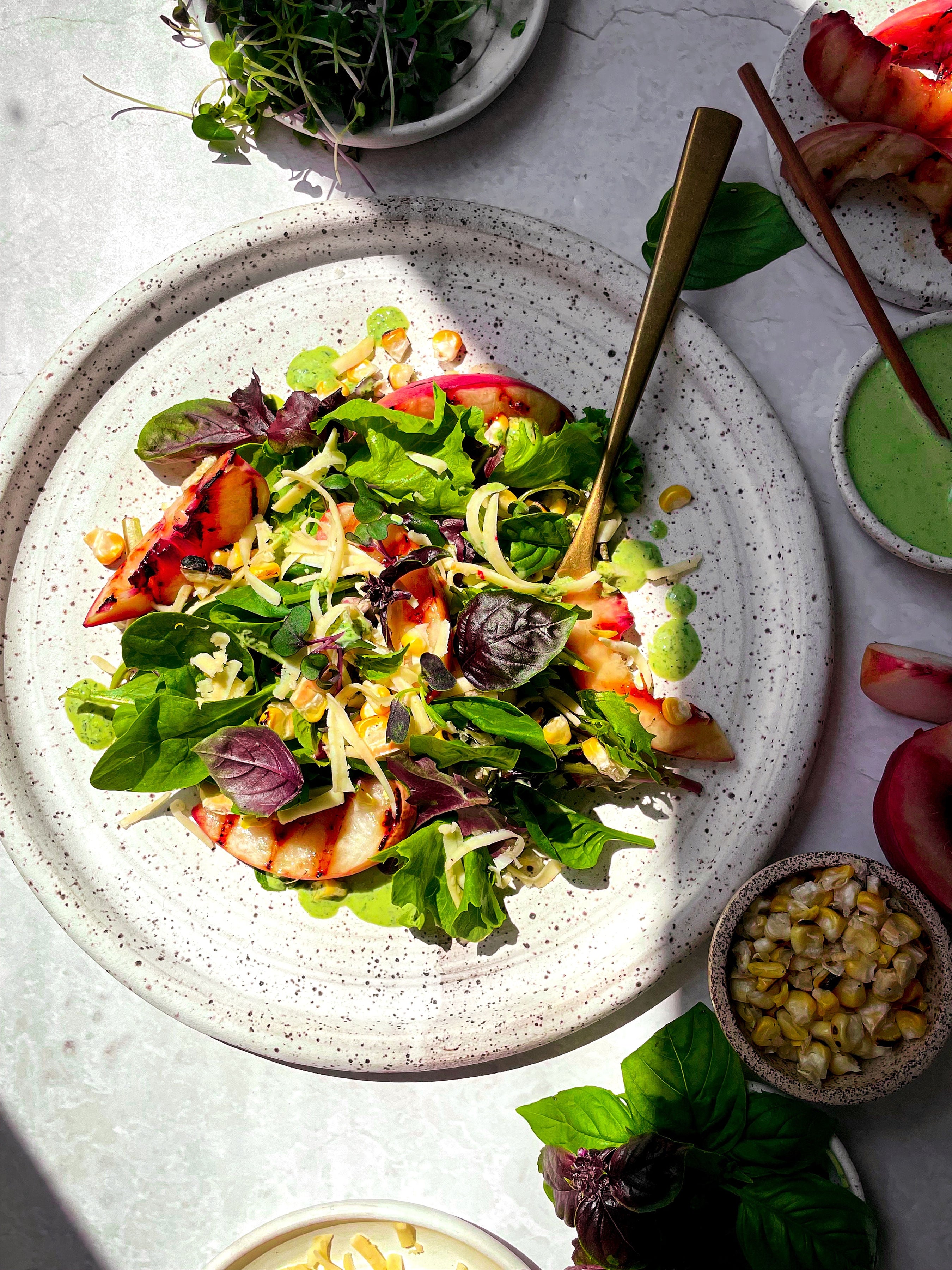 Ingredients
For the salad: 
1 pack (6oz) Spicy Habanero Paneer, shaved

2 cups of boiled or grilled corn

About 2 tbsp Brightland ARDOR olive oil


1 cup sweet baby lettuce

1-2 large nectarine, pitted and cut into thin wedges

Salt and ground black pepper, to taste 
Creamy basil VINAIGRETTE
1/2 cup basil leaves, torn

¼ cup greek yogurt/mayonnaise

1 clove garlic 

zest of one lime

1 tbsp brightlanolive oil, 

2 tablespoon lemon juice

Salt and ground black pepper, to taste 
Instructions: 
Step1: Heat a griddle pan over medium-high heat and generously brush the nectarine slices with some olive oil. Griddle for 1-2 mins on each side until charred and caramelized. Set aside.
Step 2: Shave/grate paneer: Use a vegetable peeler or a box grater in an up and down motion along one of the flat sides of paneer to create about 1 cup paneer shavings.
Step 3: To make the dressing, blend all the ingredients in a food processor or blender until totally smooth. Add more olive oil until desired thickness is reached  Add salt and pepper to taste and chill for about 15-20 minutes, if possible.
Step 5:  In a large bowl combine the lettuce, corn, grilled nectarines, shaved Spicy Habanero Paneer, salt and pepper and toss. Generously drizzle with Brightlands Ardor olive oil (or any olive oil of your choice) and toss to combine. Let salad stand for 10 minutes. 
Step 6: Divide among plates and drizzle with the creamy basil dressing. Enjoy!!