Tandoori Fried Rice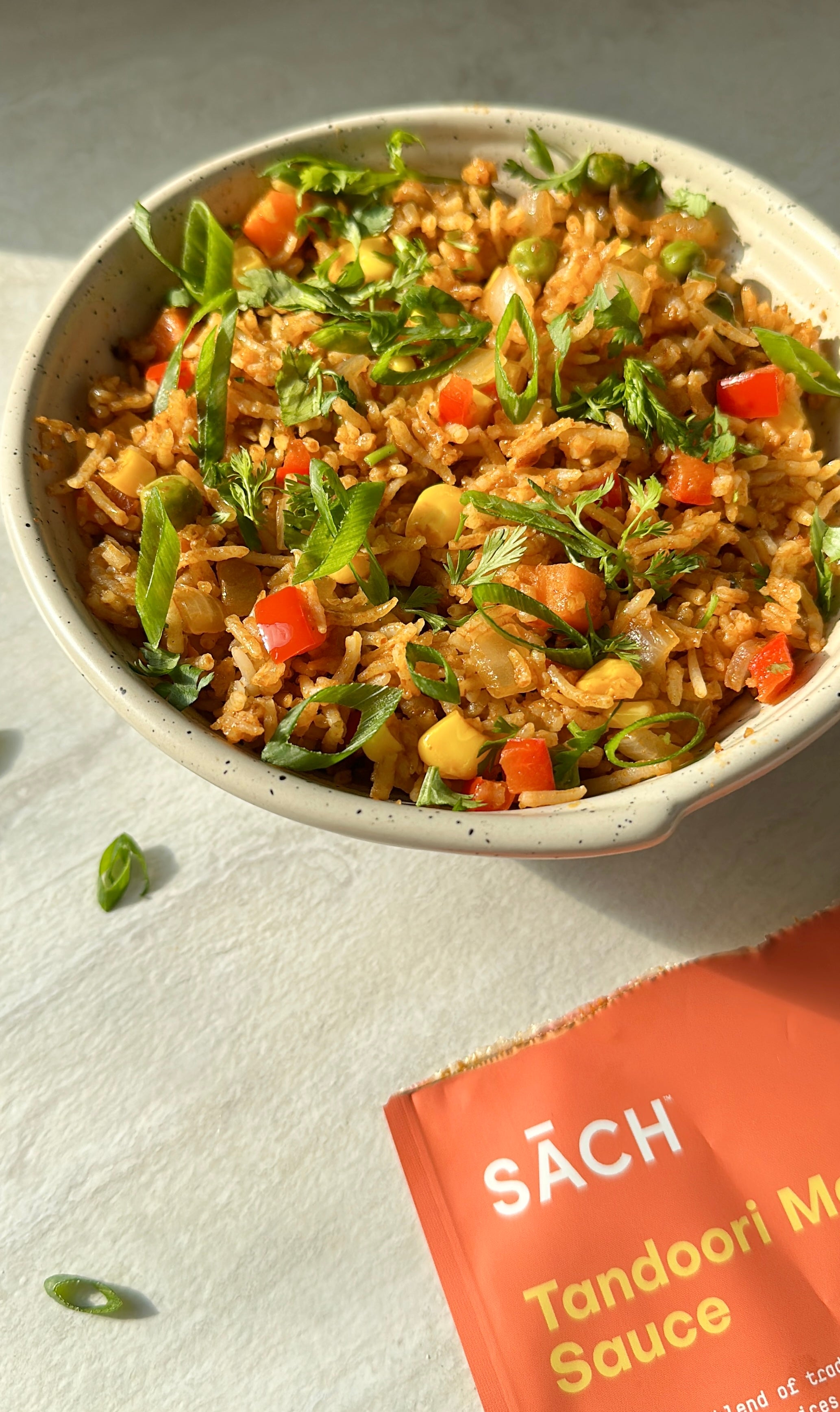 Tender cubes of paneer marinated in a delicious blend of Greek-inspired spices and herbs. As the skewers hit the grill, the smoky aromas infuse the paneer, creating a sensational combination of flavors. The creamy texture of our Original paneer perfectly complements the vibrant vegetables and the tangy marinade, making each bite a burst of deliciousness.
Servings: Serves 2
Photo by: Sophia (@sophandspice)
INGREDIENTS
2 cups leftover rice
2 tablespoons oil (vegetable or canola)
2-3 chopped green chilies (adjust to taste)
1 cup Assorted vegetables of your choice (e.g., onions, bell-peppers, carrots, peas, or corn), diced
1 pouch Sach Foods Tandoori Masala Sauce
Salt and pepper to taste
Fresh cilantro leaves, chopped, for garnish
INSTRUCTIONS:
In a large skillet or wok, heat the oil over medium-high heat.

Add the chopped green chilies and sauté for about 30 seconds until fragrant. Add the  diced bell peppers, chopped onion, corn kernels, and any other vegetables you're using. Stir-fry the vegetables for 3-4 minutes until they start to soften but still retain their crunch.

Add the cold leftover rice to the skillet. Use a spatula or fork to break up any clumps and distribute the rice evenly throughout the vegetables.

Pour the entire contents of the Sach Foods Tandoori Masala Sauce pouch into the skillet. Stir-fry the rice and vegetable mixture for 3-4 minutes, ensuring that the tandoori sauce coats the rice evenly.

Season the fried rice with salt and pepper according to your taste preferences. Remember that the tandoori sauce also adds flavor, so adjust the seasoning accordingly.

Once the rice is heated through and well-mixed with the vegetables and sauce, remove the skillet from heat. Transfer the tandoori fried rice to serving plates. Garnish with chopped cilantro leaves for a fresh burst of flavor and color.
Notes:
Feel free to customize the recipe by adding protein sources like cooked paneer or chickpeas or tofu if desired. You can marinate them in a bit of tandoori sauce before adding to the skillet.
Adjust the level of spiciness by adding more or fewer green chilies and tandoori sauce.
Make sure to use leftover rice that is cold and slightly dried out, as this will prevent the fried rice from becoming mushy. If using freshly cooked rice, allow it to cool completely before using it in this recipe.