Methi Malai Paneer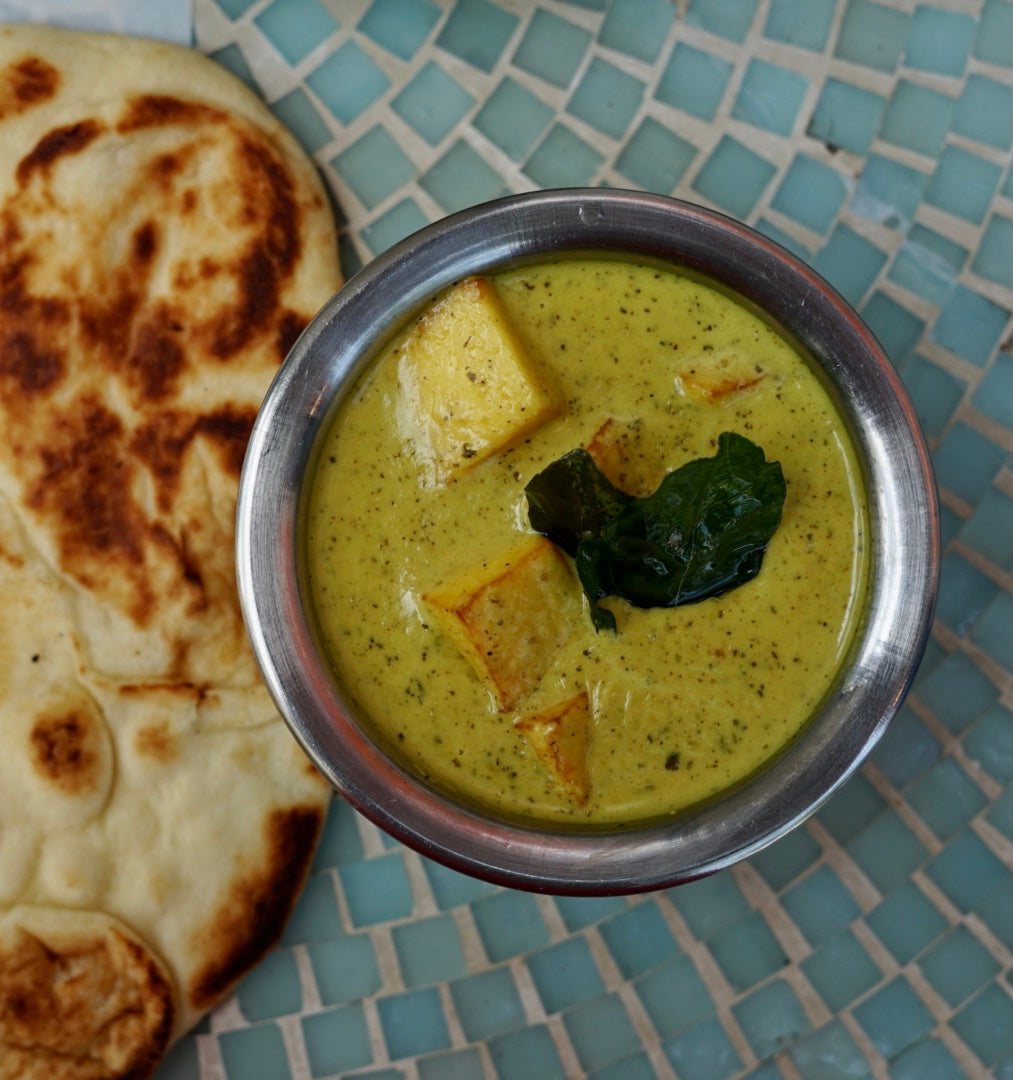 A customer favorite special at Chai Pani can now be the family favorite in your household. This creamy, dreamy bowl of comfort food is packed with flavor thanks to the fresh turmeric, garam masala and fenugreek leaves (also called methi) featured in this recipe. 
Servings: Makes about 2-3 
Recipe by: Meherwan Irani (@meherwanirani) 
INGREDIENTS: 
1 pack (6oz) Original paneer, cut into 1/2 inch cubes
1/4 cup whole cashews
1 large sweet onion, roughly chopped (about 2 cups)
2 Tbs avocado or grapeseed oil
1 tsp green Seranno pepper or other Chilli pepper, finely diced
Kosher salt, to taste
1/2 tsp Spicewalla Ground White Pepper
1 (13.5oz) can of coconut milk, about 1 1/2 cups
1/2 cup heavy cream
1/2 tsp Spicewalla Garam Masala
1 cup frozen peas, blanched
INSTRUCTIONS:
Soak 1/4 cup of cashews in 1/4 hot water then blend into a paste. Set aside.
Place chopped onion in a pot and cover with water, boil about 10 minutes until tender and translucent, then strain. Place boiled onion in a blender and puree into a paste. Set aside.
Heat oil in large pan over medium-high heat. Once hot add ginger garlic paste and serrano pepper, sauté for about 2-3 minutes until starting to brown.
Add onion paste and a pinch of kosher salt, simmer for  5-6 minutes until slightly thickened and light brown in color.
Stir in Turmeric Powder and simmer for another 3-4 minutes.
Add the cashew paste, Ground White Pepper, and coconut milk. Stir to combine. Simmer for about 3 minutes, stirring occasionally.
Crush the Fenugreek Leaves by hand to create more of a powdery consistency.
Stir in the heavy cream, crushed Fenugreek Leaves and Garam Masala.
Add paneer and blanched peas, simmer another minute just to heat the paneer and peas through. Taste and adjust seasoning to your preference. Enjoy!