Paneer Butter Masala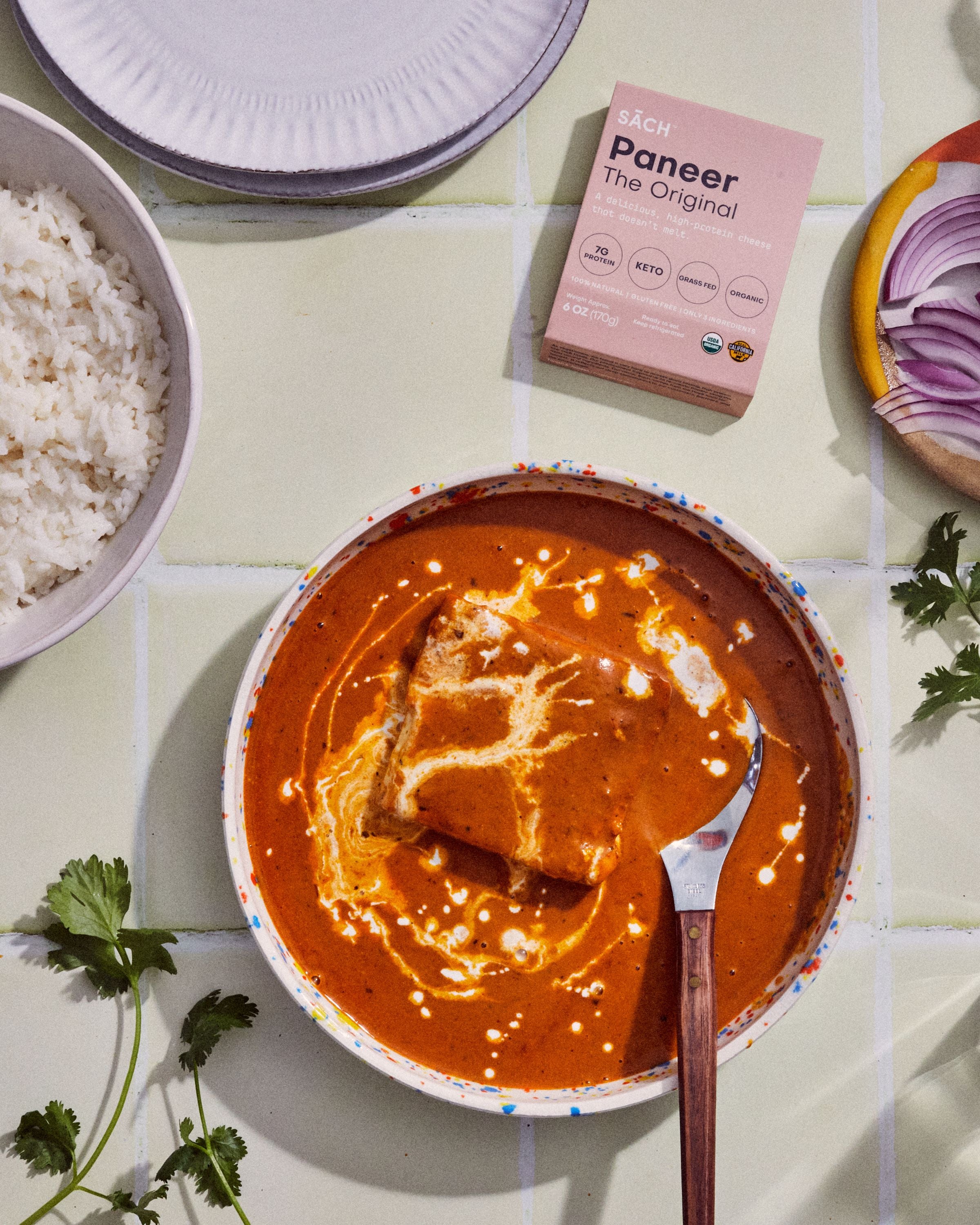 With just a few ingredients and under 30 minutes of preparation time, this Paneer Butter Masala recipe is one of our favorite recipes. Hearty, creamy, and absolutely delicious — We often batch cook the buttery sauce for an easy weeknight dinner.  
Photo by: Mackenzie Smith Kelley

INGREDIENTS: 
1 Pack (6oz) of Sach Original Paneer, cubed 

2 tbsp butter
4-5 nos garlic cloves
1 inch Ginger
1 medium sized onion, roughly chopped
4-5 medium sized tomatoes, chopped
7-8 cashew nuts
1-2 green chillies
2 tsp cumin seeds
1 tbsp ground coriander
1 tsp red chilli powder
1 tsp sugar
1 tbsp dried fenugreek, crushed
1 tbsp neutral oil
1-2 tbsp heavy cream
1 tsp garam masala (optional)
Kosher salt (To taste)
INSTRUCTIONS:
Soak 7-8 cashews in 1/4 cup of hot water
Heat oil in a large skillet over medium heat. Once the oil is hot, add 1 tsp cumin seeds, ginger, and garlic, onions, and saute for 3-4 minutes, until the onion is translucent.
Add in the chopped tomatoes, green chilies, and the soaked cashews along with the water. Give everything a good toss and cover and cook on low/medium heat for about 15 mins.
Remove from the heat and cool at room temperature for 5 minutes.
Transfer the mixture to a blender and add a few tablespoons of water if the mixture looks too dry. Blend on a medium speed until silky smooth. Once blended, set aside.
In the same skillet, melt the butter over medium heat. Once the butter melts, add the remaining 1 tsp cumin seeds, coriander powder, chili powder, turmeric, and sugar. Cook until it starts to sputter and turn brown.
Reduce the heat to low, add blended tomato mixture, cubed paneer, sugar, and salt. Cook for 7-8 minutes on medium heat until reduced to a rich and glossy sauce.
Finally add 1 tbsp cream (optional), dried/crushed Fenugreek leaves, or fresh cilantro.
Serve hot with a knob of butter along with steamed rice or naan.