Paneer Korma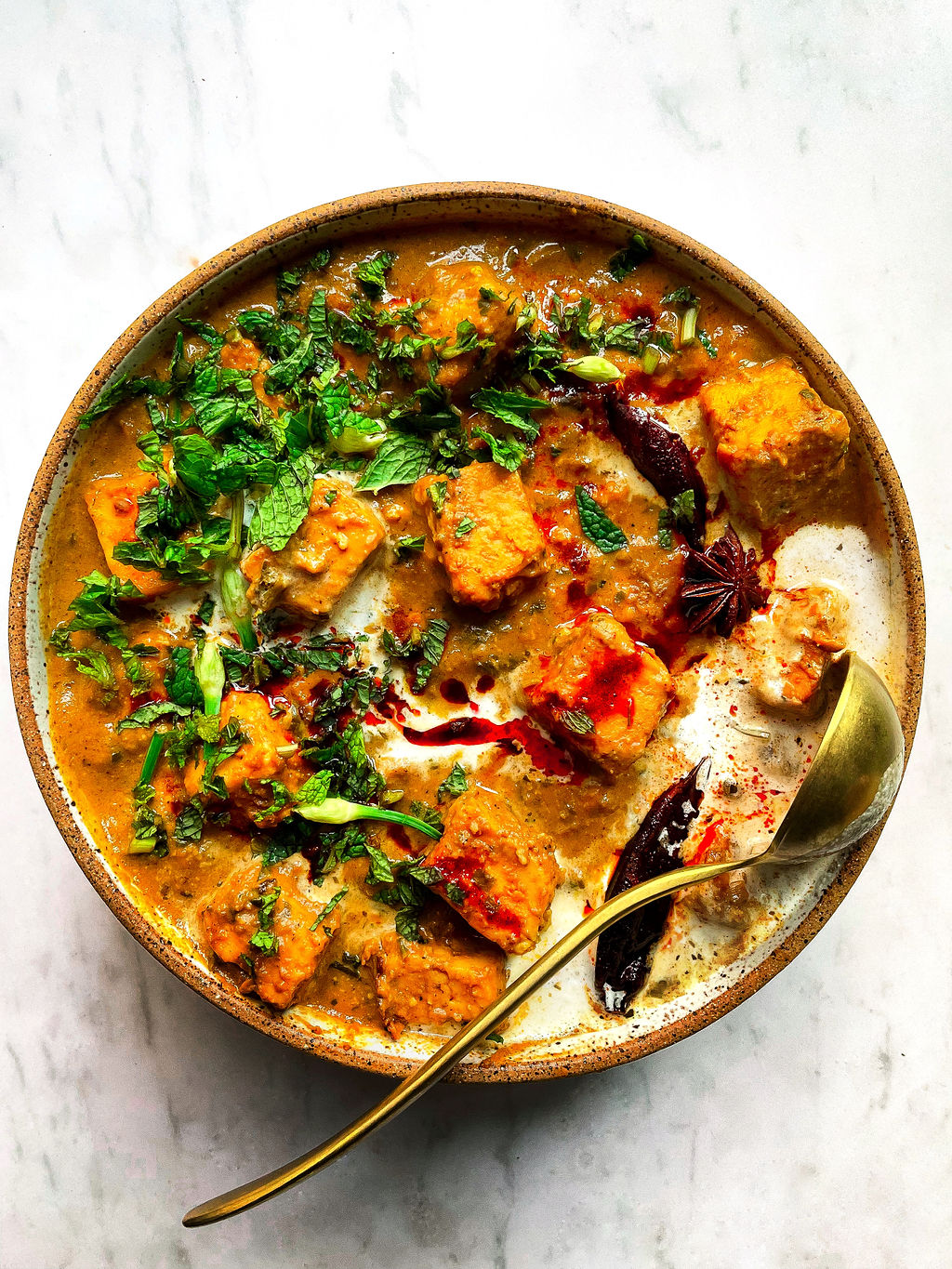 1 Pack (6-oz) Sach Original Paneer, crumbled into small pieces
2 tbsp ghee
3 tablespoons neutral oil
2-3 medium red onions, thinly sliced
5-6 cashews
2 medium sized tomatoes, chopped or store bought tomato paste
1-2 thai or serrano chili, sliced in half lengthwise (optional, for heat)
1 inch ginger, julienne
1/2 cup greek yogurt or ay plain yogurt
Whole Spices 
1/2 teaspoon cumin seeds
1-2 bay leaf
2-3 cloves
1 star anise (optional)
2 tbsp coriander powder
teaspoon Kashmiri chili powder or other mild chili powder
1 1/2 teaspoons garam masala
1/2 teaspoon ground turmeric
Saffron infused water 1 tbsp 
Salt, to taste
INSTRUCTIONS
:
Heat 2 tbsp ghee in a dutch oven or wok, add sliced onions and cook on medium heat until onions turn golden-brown. Remove fried onions on a paper towel and aside to cool. Soak the cashew nuts in hot water for 10 minutes.
Grind the fried onions along with soaked cashews into a fine paste adjust the consistency by adding water as required.
Heat the same ghee used for frying onions, add paneer cubes and fry until they are lightly browned. Remove the cubes from the pan and keep aside.
In the same ghee, add cumin seeds, bay leaf, cloves, thinly slices green chillies, ginger, and tomato paste,  and cook until the aromatics are fragrant, about 3-4 minutes. Add the fried onion cashew paste and mix well.
In a separate bowl add the 1/2 cup yogurt, red chili powder, coriander powder, salt, and turmeric powder. Whisk well.
Reduce the heat to low and add the yogurt mixture to the pan stirring slowly. Cook, stirring occasionally, on medium-low flame for 8-10 minutes.
Add the saffron infused water and the fried paneer cubes. Mix well and turn the heat to low, partially cover and let it cook on low heat for 10-12 minutes, stirring occasionally. Add hot water if the curry thickens
Finally add 1 tbsp cream (optional), fresh cilantro and serve hot with steamed rice or naan.