Paneer Tart with Rosemary Potatoes & Creamy Mascarpone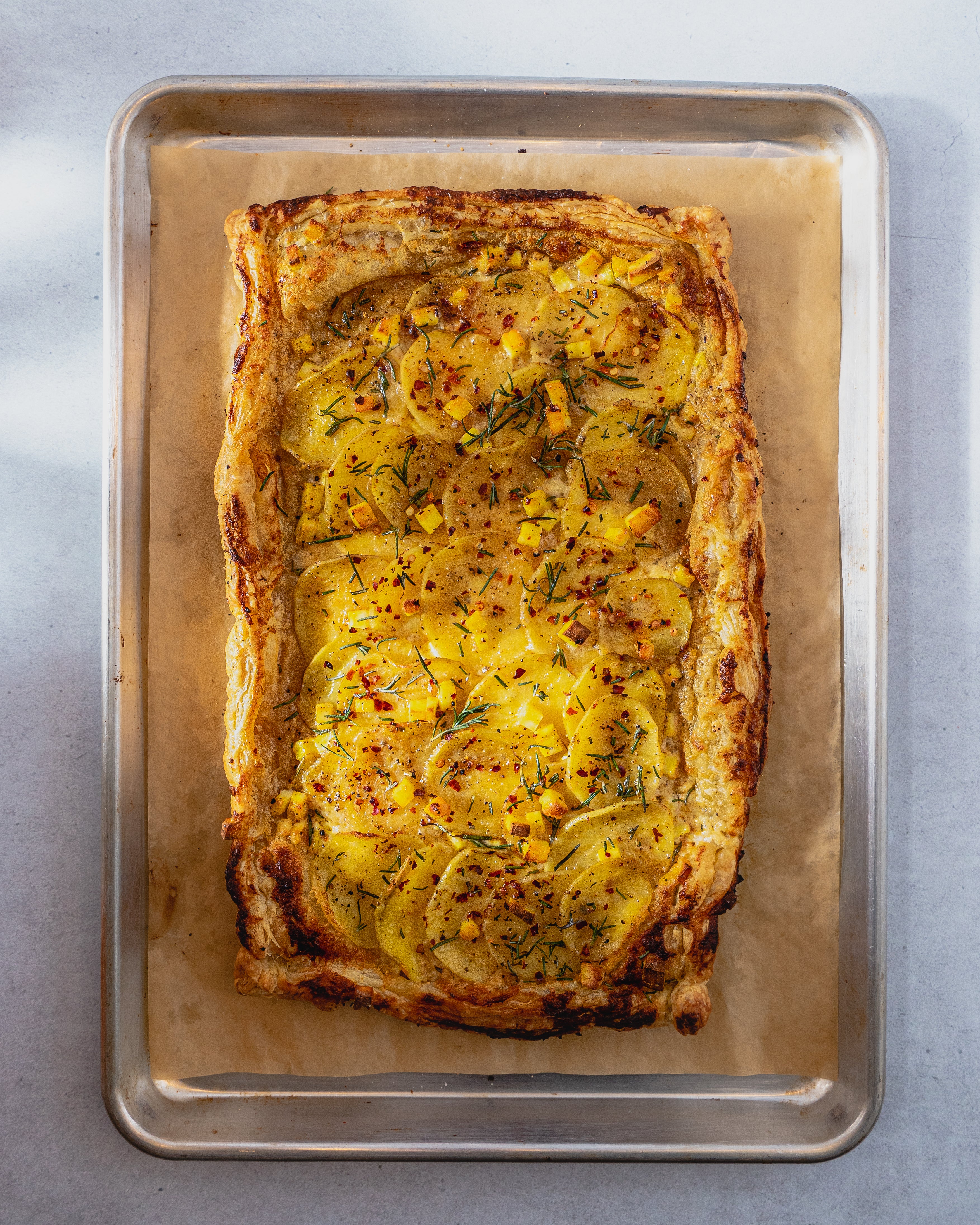 Creamy paneer, wafer-thin potatoes, and a hint of rosemary. Using ready-rolled puff pastry means you can rustle up this beautiful, savory tart in no time. 
Little prep, so much flavor!!  Perfect for a lazy weekend meal. 
Photo by: Shruti Thundiyil
Serves: 4
INGREDIENTS:
1 sheet frozen puff pastry, thawed

Sach Turmeric Twist paneer, cubed 

1/2 cup mascarpone or cream cheese of your choice

1 1/4 cups new potato or other waxy potatoes, thinly sliced

1 tbsp extra virgin olive oil

sea salt

cracked black pepper

2-3 sprigs rosemary, chopped
INSTRUCTIONS:
Preheat oven to 200°C (400°F). 

Roll the puff pastry dough and layer it on a large oven tray lined with non-stick baking paper. Using a fork, prick it in the center so it doesn't puff up. Then, using a sharp knife, score two finger-width rectangles from the edge.

Refrigerate until needed. 

Meanwhile, cut the potatoes into ½ cm-thick slices. Drop them into a pan of boiling salted water and simmer gently for 5-7 minutes or until just tender. Do watch them as all potatoes cook differently, and you don't want the slices to fall apart. Drain and set aside.

In a medium bowl, toss the potatoes with EVO, rosemary, salt, and black pepper. 

Spread the mascarpone over the pastry, top with the sliced marinated potato, and cook for 20-25 minutes. Add cubed paneer and cook for another 7-8mins or until golden and pastry is cooked.