Baked Tandoori Paneer Tikka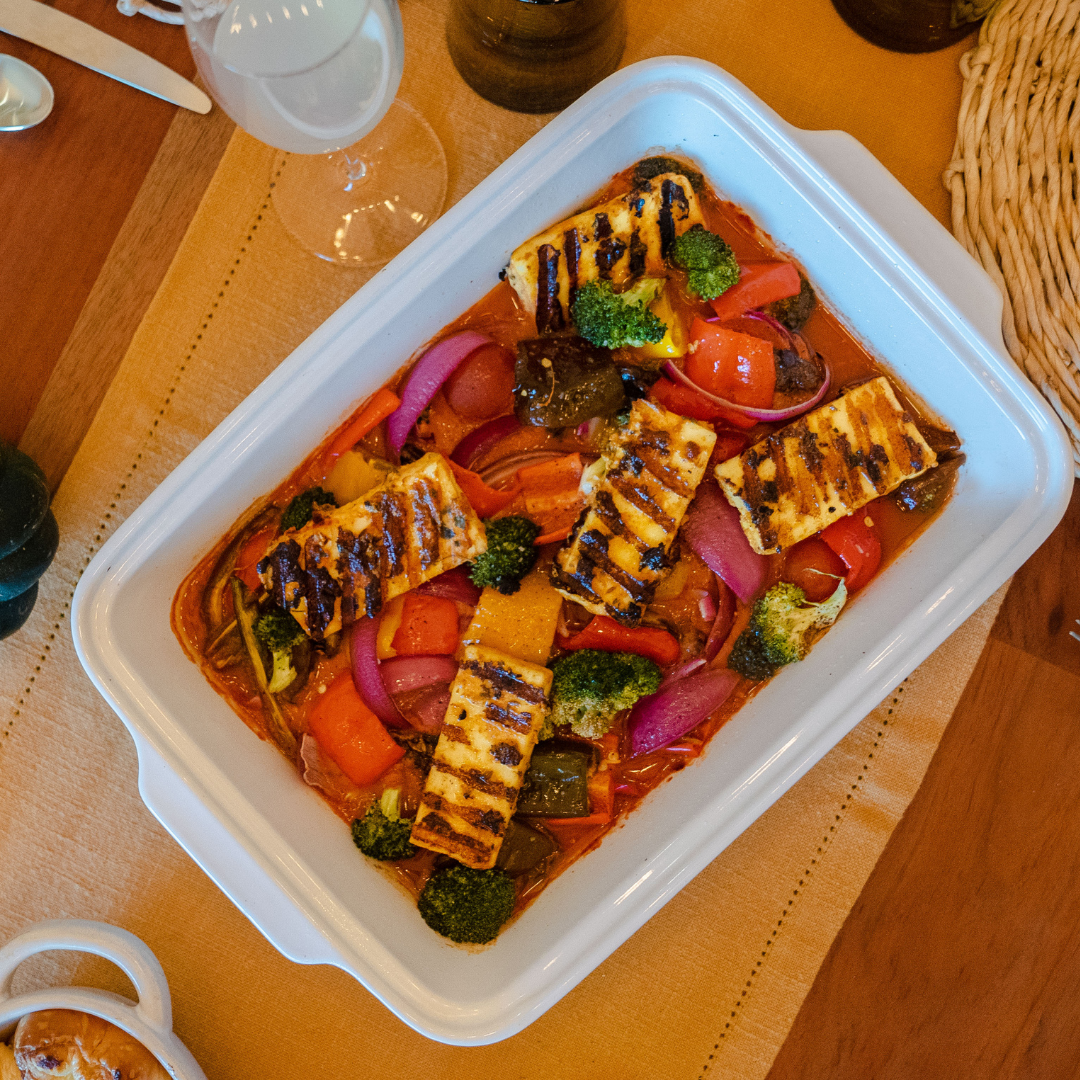 Grilled veggies with charred paneer tossed in a smokey tandoori sauce. Who needs meat when veggies can taste so good?
Photo by: Shruti Thundiyil
Serves: 4 main-course or 6 side-dish servings. 
INGREDIENTS:
6 oz Original or Spicy Habanero Paneer 
1 red pepper, thinly sliced
1 yellow pepper, thinly sliced
1 small head of broccoli
2 small or 1 large red onion
2 tomatoes, chopped
1 tbsp Olive Oil 
1/2 can, tomato puree
2 garlic cloves, roughly chopped
¼ tsp. ground turmeric
1 tsp. coriander seeds, coarsely grounded
½ tsp ground cumin
½ tsp Kashmiri chili powder or cayenne pepper
¼  cup Greek yogurt
Kosher salt
2 Tbs. fresh lemon juice; more as needed
INSTRUCTIONS:
First, prep your ingredients. Slice onions and bell peppers into thin wedges. Slice broccoli and mushrooms into small pieces and slice a pack of paneer (6oz) into thick strips. 

Preheat oven to 350 F. Mix all the spices together in a large bowl with the yogurt and lemon juice. Stir to blend. Add the sliced onions, peppers, broccoli, and mushrooms. Toss together till evenly coated and set aside.

Heat some olive oil in a baking dish and fry your sliced garlic until it begins to brown. Stir in diced tomatoes, chopped spinach, and tomato puree. Stir well and allow the sauce to simmer for about 5 minutes over medium heat. Season generously with a few pinches of salt and pepper.

Remove the dish from the heat and combine the marinated veggies with sauce. Top with grilled paneer and bake in the oven for about 15 minutes or until the sauce is bubbling. For the last 4-5 minutes, place the dish under the broiler so the paneer becomes brown on the top. You can also grill the paneer separately before you add it to the sauce, for the beautiful grill marks. 

Serve hot with a

side of arugula or steamed rice.